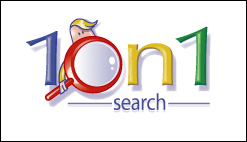 1on1search.com was created with the Internet surfer in mind while also providing a haven for businesses interested in online advertising
(PRWEB) April 18, 2006
1on1search.com, a recently developed search engine, now offers its users online advertising benefits and many useful Internet surfing tools. The site was launched as a platform for users to merge all the capabilities of major search engines in one convenient location.
Using 1on1search.com, members can set up "My Portals," which are personal homepages where they can check their e-mail, news from different Web sites, daily horoscopes and much more. One of the main features available on 1on1search's index page is a link where users can directly log into any of their MSN Hotmail, Yahoo! Mail or Gmail accounts.
"1on1search.com was created with the Internet surfer in mind while also providing a haven for businesses interested in online advertising," said Bernd Litfin, creator of 1on1search.com. "It offers all of the features of other search engines in one, easy-to-access location."
Affiliates can easily take advantage of the cohesive structure of 1on1search.com and its bid-per-click system. This marketing approach is superior to other online advertising because affiliates only need to pay when potential customers click on their links and are taken directly to the business's Web site. Affiliates also have the option to earn money by marketing 1on1search.com's toolbar or search page to their clients.
Advertisers within the 1on1search.com database have an advantage because their listings will always come on top of search results above other major search engines. All listing prices start at 1 cent per keyword -- each bid is based on seniority.
Those interested in advertising with 1on1search.com this month have the opportunity to receive $10 toward their advertising accounts just for signing up. For more information about online advertising opportunities with this new search engine, please visit http://www.1on1search.com.
About 1on1search.com
1on1search.com was launched in March 2006. Bernd Litfin created the search engine using a concept that places the Internet surfer in the driver's seat for all online marketing endeavors. For more information, please visit http://www.1on1search.com.
Contact:
Bernd Litfin
+64 212 730 656
# # #