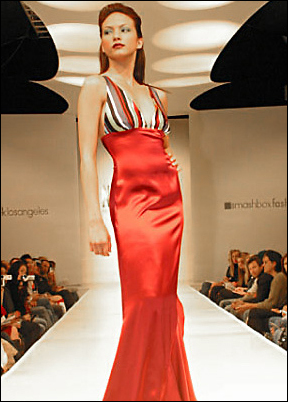 Beverly Hills, CA (PRWEB) April 18, 2006
Project Runway star Nick Verreos, one the hit show's most famous alumni, recently sat down for an interview in Beverly Hills with BeverlyHillsPeople.com
During the interview Verreos offered a number of opinions ranging from his experience on Project Runway, the top-rated show on the Bravo T.V. network.
Nick also offered his unique perspectives on what he liked and disliked about the reality show experience as well as his relationships with the other designers on Project Runway.
The Nick Verrios biography leading up to his star turn on Project Runway reads like a Hemingway novel: born in St. Louis, Missouri, Nick Verreos spent his childhood in beautiful Caracas, Venezuela, raised by a Greek-American father and Venezuelan mother.
Leaving Venezuela at the age of 10, Nick and his family moved to the San Francisco Bay Area where Nick completed his secondary education. After high school, Nick went on to attend the University of California, Los Angeles, where he immersed himself in the study of Political Science and International Relations and received a Bachelor of Arts degree.
Upon graduation, Nick furthered his professional education by attending the Fashion Institute of Design and Merchandising in Los Angeles (FIDM) and graduated Cum Laud from the Advanced Fashion Design Program.
Nick worked in the fashion industry for 14 years in varied roles including that of an instructor at the FIDM. Several years before Verreos appeared in Project Runway, in 2001, Verreos launched his own line, Nikolaki, with his partner David Paul.
The entire interview is available at BeverlyHillsPeople.com, a lifestyle publication covering fashion, luxury homes, travel, and fine dining.
A portion of the interview is included below:
BHP: How long did it take before you found out whether you were in or out of Project Runway?
Nick: I received a "yes, you are in" at the audition, but it wasn't until a few months later that I received the long-awaited confirmation call. I literally had a week to put my life on hold and move to New York for four months.
BHP: What was it like seeing yourself on TV?
Nick: To be honest with you, I wasn't as prepared as I thought I'd be. I was over at my friend's house for a preview party and when I initially saw myself it was like watching a stranger. I'm the type of person who dislikes seeing himself on camera, but I had to get over that quick. After watching the first episode, my friends called it the Nick Show. It seemed as if the whole show was centered on me. I must have been in every shot.
Read more about Nick and Project Runway at BeverlyHillsPeople.com
###