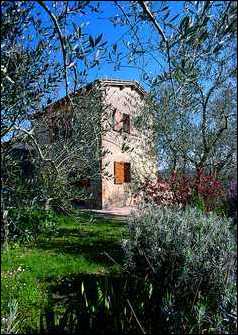 Ventura, CA (PRWEB) April 19, 2006
Tuscany is one of the most romantic honeymoon destinations in Europe. Warm climate, rustic villages, rolling countryside, sandy beaches, picturesque ruins, excellent food and even better wine - the list goes on and on. As the experienced travel advisers at Rentvillas.com can tell you, Tuscany offers everything one dreams of in an ideal honeymoon or romantic getaway.
With wedding responsibilities fulfilled, you want your honeymoon to reflect the beginning of your "Vita Bella". The beauty of Italy's Tuscan region is a perfect match, and attractions are within reach wherever you go in Tuscany. To find your perfect honeymoon villa, Rentvillas.com advisers can help to narrow your options by deciding whether to stay in the countryside or in a city, such as beautiful Florence. Each option has its advantages, depending on personal preference:
Newlyweds may prefer the seclusion offered in a country retreat like Serena, in North Siena, located next to a Romanesque church. After shopping for supplies in the village, couples can stay in to watch the sunset and prepare their own candlelit dinners.
Castello Machiavelli transforms man and wife into king and queen within an authentic 9th century Italian castle. Rural pastimes like horseback riding and hiking are sure to please romantics happiest in each other's company, while a swimming pool offers a relaxing diversion in the heat of the Tuscan day.
On the other hand, the bride and groom may opt to stay in Florence, one of the most romantic cities on earth. Figaro, within Palazzo Torrigiani, offers lovers the perfect "room with a view," featuring panoramas of the river Arno and the Uffizi Gallery.
If you're undecided, an equally charming choice is Vita Bella, located in the ancient and picturesque city of Arezzo. The filming locale of Roberto Benigni's "Life is Beautiful," Arezzo offers the pleasures of city and rural life combined.
Wherever you and your soon-to-be spouse decide to go in Tuscany, the two of you are sure to find plenty of excitement and romance. And because we all know that where you sleep on a honeymoon is just as important as your destination, Rentvillas.com will be there to help you find the perfect place to stay. Our travel advisers have the experience and contacts necessary to furnish you with the Tuscan honeymoon of your dreams.
About Rentvillas.com
Rentvillas.com has been in the business of renting apartments, villas, farmhouses, cottages, and castles since 1984. With Rentvillas.com, customers can check availability and make bookings on a large portion of rental properties in real time. Instead of replacing human interaction, the Rentvillas.com web site enhances the quality of each customer's experience. Rentvillas.com is dedicated to being the most experienced, the most innovative, and the most customer-obsessed company in the industry.
For further information, visit Rentvillas.com or call 800.726.6702.
###