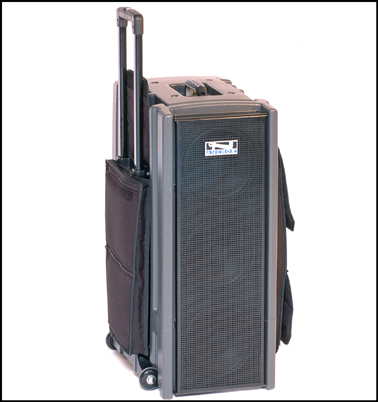 With 'plug and play' design, you simply roll it into place, open it up, and start broadcasting high-quality speech or music with enough power to fill an auditorium or small stadium
Torrance, CA (PRWEB) April 19, 2006
Local and county governments are called on to provide quality sound for a wide range of municipal business and public events, which take place in different venues and with different crowd sizes. A local government may have PA system requirements as diverse as a public forum for the school board, a mayor's speech on the city hall steps, a special presentation at the library, and an outdoor celebration for a major holiday.
Anchor Audio, the industry leader in professional sound systems, frequently guides demanding customers like the White House and FBI in choosing a portable public address system that is best suited for the situation considering factors such as audience size, transportability, power options and ease of use.
For instance, a regional government may need sound equipment that has the power to reach large groups with great sound, because officials and entertainers often speak or perform before large numbers. A school on the other hand may need smaller portable public address systems for individual classrooms.
Anchor Audio manufactures a broad line of easy-to-use, high-quality portable PA systems for governments and other institutions. The company has been specializing in portable audio products for close to 30 years, and has developed a range of systems to meet virtually every need from small devices for simple voice amplification to higher-end systems suitable for voice and music in larger settings.
The system may also need to be portable because it may be used frequently in the field. A portable PA system is extremely helpful in emergencies, when the government needs to convey information or respond to a scene immediately.
Placing portability first, all of Anchor's products are fully portable, pack up easily, and are stackable for storage.
In addition, government leaders may prefer the option of battery power for a portable public address system because it allows great flexibility and eliminates worries about whether or not the speaker will have access to power.
The most recent addition to Anchor Audio's line of products, the BEACON, includes a 110/220 VAC converter making it possible to travel the world without worrying about power conversion. The rechargeable, on-board DC battery packs 60 Watts of power for 4-6 hours, providing maximum flexibility.
Finally, the portable public address system should be easy to use so non-experts can set it up quickly and it can be shared among departments.
"With 'plug and play' design, you simply roll it into place, open it up, and start broadcasting high-quality speech or music with enough power to fill an auditorium or small stadium," says David Jacobs, CEO and President of Anchor Audio, Inc.
Many municipalities are turning to Anchor Audio for the solution. Anchor Audio, provides portable, versatile systems of proven quality. Anchor Audio sound systems are flexible enough to handle a variety of situations, while maintaining high quality sound and ease of use
Anchor Audio portable public address systems are made in the United States under strict quality guidelines and come with a six-year warranty. A portable PA system can provide crystal clear sound for municipal events such as press conferences, ribbon cuttings, Board of Supervisor meetings, and Fourth of July celebrations.
###