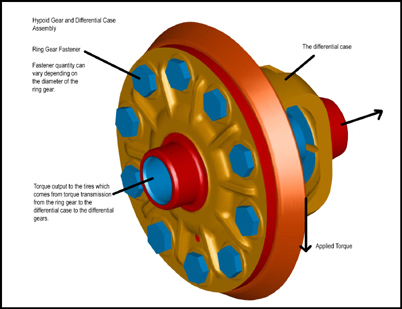 For reliability, the manufacturing process, and cost performance, they offer an edge over traditional methods. Especially when it comes to taming extreme forces and ensuring safety, they're a win-win fastener choice for engineers, OEMs, and the vehicle end-user.
Madison Heights, MI (PRWEB) April 19, 2006
Extreme may be the new buzzword for dangerous sports and high-caffeine sports drinks, but for vehicle design engineers extreme has always been part of the job. But now new self locking threaded fasteners replaces traditional lock nuts and gives designers a way to tame those forces.
"The challenge is to keep critical joints fail-safe not only under expected use, but also under extreme use," said Frank Metelues, a design engineer at Dana Corporation, a leading supplier of axle, driveshaft, engine, frame, chassis, and transmission technologies to vehicle OEMs with $9.1 billion in worldwide sales last year.
"You've got to do this while hitting all the required pricepoints for performance, manufacturing, and warranty, and some drivers are always going to push the limits," continues Metelues, who works in Dana Corporation's Traction Technologies Group. "Uphill towing or off-roading just compounds the extreme loading, vibration, and thermal forces engineers contend with."
Critical Design Issues
While engineers are tasked to design vehicle components that reliably withstand extremes of use - from shock, torsional, axial, and vibrational loading to thermal resistance and lifecycles of use - they must always keep their eyes on the bottom line as well. That means issues such as the cost of performance, assembly, maintenance, and warranty must also be optimized. But until now, engineers have faced significant drawbacks using traditional lock nuts.
Fortunately, vehicle engineers are successfully attacking these problems with a variety of new technologies that help optimize design reliability and profit, even under extreme conditions. One of the most interesting solutions is also the simplest - innovative self locking threaded fasteners called Spiralock. By its unique design, Spiralock is capable of resisting loosening even under loads and vibrations strong enough to break traditional lock nuts, can be reused many times, and is highly resistant to heat.
In proactive design testing to boost reliability, performance, and assembly effectiveness, Dana Corporation compared the clamp force retaining ability of locking adhesive with that of Spiralock self locking threaded fasteners. What makes Spiralock unique is a 30º "wedge" ramp cut at the root of the female thread (while a traditional locking fastener uses a 60º thread).
Under clamp load, the crests of the threads on any standard male bolt are drawn tightly against Spiralock's wedge ramp. This not only eliminates sideways motion that causes vibrational loosening but also distributes the threaded joint's load throughout all engaged threads, a claim supported by a Massachusetts Institute of Technology research study.
"The bolts using Spiralock fasteners did not back out," adds Metelues. "The design distributes load more evenly than traditional threads which minimizes thread yielding and deformation, while the wedge ramp helps prevent torque and axial loads from backing the bolts out. And unlike adhesive, whose locking effectiveness degrades at higher temperature, the design exhibits significant temperature resistance."
Metelues concludes the Spiralock self locking threaded fasteners help optimize design and can lower total cost. "For reliability, the manufacturing process, and cost performance, they offer an edge over traditional methods. Especially when it comes to taming extreme forces and ensuring safety, they're a win-win fastener choice for engineers, OEMs, and the vehicle end-user."
# # #