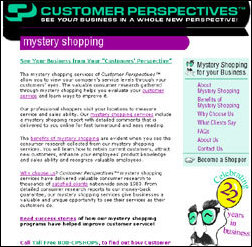 ProphetVIA is revolutionizing the phone mystery shopping industry, enabling simple, cost-effective recording of telephone calls. This provides clear, actionable information to our clients.
Hooksett, NH (PRWEB) April 25, 2006
Judith Ann Hess, president of mystery shopping service Customer Perspectives, announced today the addition of a new product that represents a significant advancement and advantage for client companies. The product, ProphetVIA, is incorporated into Customer Perspectives' telephone mystery shopping services to allow mystery shoppers to easily and quickly record their telephone mystery shops. When the call is complete, ProphetVIA automatically places the recording on the evaluation. Callers and client companies may then download and listen to the call for further review.
"This fully integrated telephone recording system allows clients to listen to any telephone mystery shops they want at any time convenient for them," Hess said. "This is particularly important if a shopper's report indicates gray areas or nuances in reports of customer satisfaction that are best heard directly and in detail by the client."
According to Hess, ProphetVIA solves many problems associated with other methods of phone recording. For example, the new program works in conjunction with Customer Perspectives' scheduling/reporting system to automatically attach and track phone calls with no manual intervention or file uploading. It also reduces cost, since it eliminates the need for any other piece of recording software or hardware for staff, callers, and clients. Developed by Archon Development in Tallahassee, Florida, Hess said: "ProphetVIA is revolutionizing the phone mystery shopping industry, enabling simple, cost-effective recording of telephone calls. This provides clear, actionable information to our clients."
For more information about Customer Perspectives mystery shopping services and ProphetVIA please call 800-277-4677 or visit http://www.customerperspectives.com
###