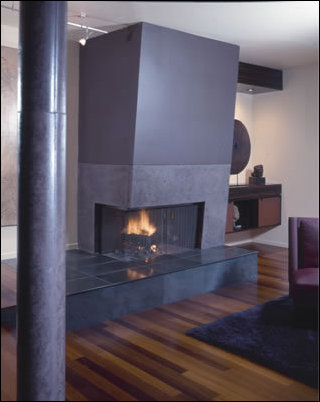 Yucaipa, CA (PRWEB) April 21, 2006
There's no denying it — the fireplace is one of the must-have amenities for today's homeowner. Not only does a fireplace provide warmth, but it also serves as the centerpiece of a room, is the symbol of family togetherness, and adds value to your home.
Now, combining the qualities of fire resistance, heat retention, and moldability, concrete is fast becoming a popular material for fireplace surrounds, mantels, and hearths. Artisans can replicate virtually any look, ranging from ornate to contemporary.
The fireplace is quickly becoming a must have for homeowners. About 50 percent of all homeowners — some 53 million households — have at least one hearth appliance, according to the Hearth, Patio & Barbecue Association.
The association in a recent study found that homeowners in general believe that hearth products add value to their home and that the chief function of the fireplace is for atmosphere.
For a look that's bold and contemporary, fabricators can cast concrete into interesting geometric shapes and color it an array of bright, vivid hues. The very same elements that make a beautiful and unique kitchen counter top or bathroom vanity will also make a one-of-a-kind fireplace surround. There has been an explosion of new colors and decorative options.
Because of its versatility concrete is one of the only materials that can be molded into any shape, integrally colored or stained to match nearly any hue, and exhibit textures ranging from rough to highly polished. Because of these chameleon-like qualities, concrete adapts to a wide range of decorating styles, from contemporary to classic.
Surfaces can be made to have soft, graceful curves and textures, complimented with warm, soothing color tones. Concrete melds seamlessly with rustic cabin settings where simple, natural-looking styles and earth tones are key, contemporary surroundings where straight lines and perhaps bold colors are desired, traditional homes where elegance is key, and more artistic styles where ornate styles are preferred.
Concrete offers a unique look and its creative possibilities are endless. Each concrete artisan approaches his or her craft personally, achieving a distinct look by building his or her own forms, developing special casting techniques, and using proprietary materials and coloring methods. Concrete also gives a natural look and feel and blends well with other design elements.
The Concrete Network's Find-A-Contractor service provides visitors with a list of decorative concrete contractors throughout the U.S. and Canada. The service is fully searchable by 22 types of decorative concrete work and 198 metropolitan areas throughout North America.
Established in 1999, The Concrete Network's purpose is to educate consumers, builders, and contractors on popular decorative techniques and applications including stamped concrete, stained concrete floors, concrete counter tops, polished concrete, and much more. The site excels at connecting buyers with local contractors in their area. For more information, please visit http://www.concretenetwork.com
Photos courtesy of Buddy Rhodes Concrete Products and Concrete Interior Designs.
###