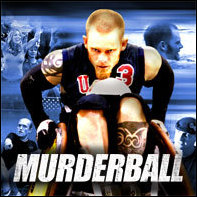 Good Night, and Good Luck.
Los Angeles, CA (PRWEB) April 25, 2006
People "GET INTO THE GAME" with a social action campaign coordinated by Participant Productions, in conjunction with Buzztone, Inc. The campaign uses the film "Murderball" to increase public awareness about people with disabilities and to raise funds for the U.S. Paralympics. "GET INTO THE GAME" encourages participants to use the film to address the misconceptions about others with disabilities, while also raising money to purchase wheelchairs for disabled athletes in need.
" Murderball " is a film about tough, highly competitive rugby players who are also quadriplegic. In their own version of the full-contact sport, the players look to "smash" each other while moving up-and-down the court in custom-made, gladiator-like wheelchairs.
As part of the campaign, participants are encouraged to host screenings of the film, hold discussions to address the issues raised, and raise funds for the U.S. Paralympics. Funds raised will be used to provide sports wheelchairs for athletes with disabilities in need. Donations are also accepted directly through the campaign website, http://www.Participate.net/getintothegame.
Screening organizers can log onto the campaign website to request a "Murderball" Screening Kit, which includes a free DVD of the film, along with tips for a successful screening and discussion points.
"There is an estimated 54 million people in the United States with a disability and they're just like you and me -- they have families, jobs, hobbies, likes and dislikes, and problems and joys. However, whether we want to admit it or not we all have biases or preconceived notions about people with disabilities," says Lisa Day, Vice President of Corporate and Community Affairs at Participant Productions. "The athletes in 'Murderball' easily transcend those stereotypes, and that's why this campaign is so powerful."
The online component of the program, developed by Buzztone, invites webmasters and online community leaders to help spread the word about this important cause by hosting a customizable interactive version of the "Murderball" trailer. Users customize the movie trailer by incorporating their company or website logo, along with a special message to viewers, and then post on their website, blog or MySpace profile. To sign up for your own custom trailer, log onto http://www.buzztone.com/murderball.
About Participant Productions:
Founded in January 2004 by philanthropist Jeff Skoll and headed by Skoll and President Ricky Strauss, Participant Productions focuses on compelling entertainment that highlights important social issues in order to awaken, inspire and empower audiences to make a difference.
Participant Productions 2005 films were honored with a total of 11 Academy Awards nominations. These include: "Good Night, and Good Luck.," produced by Section 8 and co-financed by Participant and 2929 Entertainment, directed by and starring George Clooney, and David Straithairn, released by Warner Independent Pictures; "North Country," directed by Niki Caro ("Whalerider") and starring Charlize Theron, Frances McDormand, released by Warner Bros.; and "Syriana," written and directed by Stephen Gaghan and starring George Clooney, Matt Damon, and Jeffrey Wright, released by Warner Bros. Upcoming projects include "Fast Food Nation," directed by Richard Linklater, to be released by Fox Searchlight Pictures, and "An Inconvenient Truth," a documentary on global warming featuring Al Gore, to be released by Paramount Classics. Documentaries include the Oscar nominated "Murderball," for which Participant partnered with THINKFilm and MTV Films for its release, and the upcoming "The World According to Sesame Street." For more information about Participant Productions, please visit http://www.participate.net
About Buzztone, Inc.
Buzztone, Inc. is a non-traditional marketing agency that was established in 2000, and has since become the premier go-to agency to help brands increase awareness, improve favorability and accelerate conversion. Buzztone's clientele includes Fortune 500 companies, social ventures, as well as budding start-ups, artists on the verge of breaking through, and the next blockbuster entertainment property. Its client services include strategy, branding, events and promotions, mobile tours, web development and online marketing among other services. With offices in New York, Los Angeles and San Francisco, its 30-plus employees are dynamic individuals that help brands establish authentic connections with their customers. For more information about Buzztone, Inc., please visit http://www.buzztone.com.
For more information about the "GET INTO THE GAME" campaign, the film "Murderball" or smashing stereotypes about people with disabilities, visit http://www.Participate.net/getintothegame.
For More Information, Contact:
Nick Lezin, Buzztone, Inc.
310-806-4549
# # #