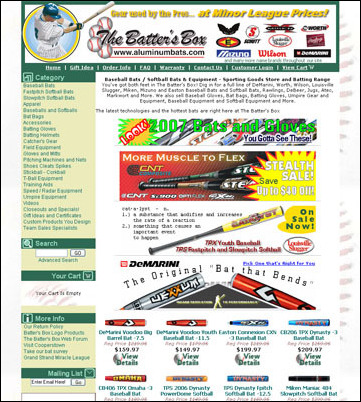 How do composite material bats compare to other materials?
Myrtle Beach, SC (PRWEB) April 25, 2006
With Baseball and Softball season upon us again, the question remains, "How do composite material bats compare to other materials?" Though there has been much debate over the issue, it seems that composite materials are coming out on top. The release of the new College World Series baseball practice equipment, available at The Batter's Box, highlights the new trend.
Composite materials are taking over aluminum and wood for several reasons. First of all, they are the most durable of the three styles, followed by aluminum and then wood. Unlike wood professional baseball bats, composite bats are less likely to break and send dangerously sharp wooden fragments flying. Yet, composite adult baseball bats have that "wood-like crack" sound when hit—making it popular baseball training equipment with players that are fond of the traditional sound as compared to the "ping" of aluminum.
In comparing aluminum adult baseball bats to composite styles, the latter is lighter and stronger. This trendy baseball training equipment also has a bigger sweetspot and can be modified more easily than aluminum or wood.
The new lines released by Easton and Wilson enforce this movement towards composite materials for adult baseball bats. Experts and long-time suppliers in the industry, like The Batter's Box, are now offering the latest innovations in baseball training equipment like these composite material bats.
The Batter's Box has been in the baseball business since 1983. Their expertise and love of the game keeps them up-to-date with the newest trends, like composite adult baseball bats. Every employee can be seen regularly at local school and recreation league games watching and hearing first-hand how particular baseball field equipment measures up.
This close relation to the customer is the pride of The Batter's Box. As George Schiessl, retail store manager and product specialist, puts it, "Every time we make a new customer online, we make a new friend. Because we are just 4 miles south of Myrtle Beach, SC, we meet many new friends who purchased on our website in the spring and stop by the store in the summer while on vacation. Some customers plan their trip around a baseball or softball tournament hosted in Myrtle Beach and make it a point to stop in, while others simply make The Batter's Box store and batting cages their first stop when vacationing in Myrtle Beach."
Whether you use a composite material, aluminum, or wooden bat, The Batter's Box philosophy stresses to customers that "it's not the tools, it's the carpenter". As owner George Karukas' dad, George Karukas Sr., always said, "Repetition is the key to success. Practice, practice, practice."
To find composite baseball bats and other baseball training equipment, please visit aluminumbats.com.
About The Batter's Box, Inc.:
Owners George and Karen Karukas began in the industry with a batting range in 1983. With the encouragement of their customers, they opened their sporting goods equipment store online in 1997. The batting range is now run by George's father, George Sr., and mom Angie with his brother Dean.
###