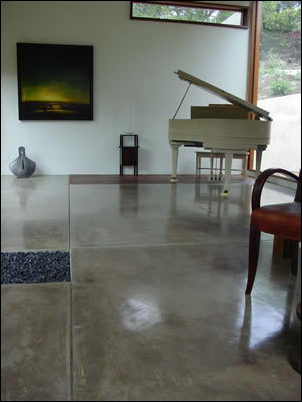 Yucaipa, CA (PRWEB) April 26, 2006
Imagine a smooth, high-luster floor that is durable enough in a warehouse for foot traffic to heavy forklifts and yet shiny, clean, and professional enough for office buildings, hotels, and restaurants. With recent advances in polishing equipment and techniques, concrete contractors are now grinding concrete floor surfaces—whether new or old—to a high-gloss finish that never needs waxes or coatings.
Simply put, polishing concrete is similar to sanding wood. Heavy-duty polishing machines equipped with progressively finer grits of diamond-impregnated segments or disks (akin to sandpaper) are used to gradually grind down surfaces to the desired level of sheen—from satin to high-gloss. The resulting surface is very low-maintenance and can be stained to replicate the look of polished stone.
The key reason many warehouses and retail facilities are opting for polished concrete is the ease of maintenance. Not only are polished floors easy to clean, requiring only occasional damp mopping, they hold up well to heavy foot traffic and resist the marks of forklift truck tires and staining from oil and chemical spills.. They also eliminate the need for messy waxes or coatings—as well as the associated labor, time, and expense to apply them.
The high light reflectivity of polished concrete is another important benefit, especially for office buildings, hotels, restaurants, and other public facilities that want to project a bright, clean, professional image. Some customers simply want a look that's unique, according to contractor Doug Demmert of Demmert & Associates, Glendale, Calif. (see Company Specializes in Polished Concrete Finishes). He says that polishing can give concrete a higher degree of shine—similar to polished marble or granite—than can be achieved with a high-gloss coating. This makes polished concrete a particularly good alternative for homeowners or businesses that can't afford marble or granite floors but want the same brilliant, mirror-like finish.
Homeowners, builders, designers and architects interested in locating a concrete contractor with polishing concrete services can utilize The Concrete Network's Find-A-Contractor directory. The directory provides visitors with a list of decorative concrete contractors throughout the U.S. and Canada. The service is fully searchable by 22 types of decorative concrete work and 198 metropolitan areas throughout North America.
Established in 1999, The Concrete Network's purpose is to educate consumers, builders, and contractors on popular decorative techniques and applications including stamped concrete, stained concrete floors, concrete counter tops, polished concrete, and much more. The site excels at connecting buyers with local contractors in their area.
For more information, please visit http://www.concretenetwork.com
Photos courtesy of Demmert & Associates.
###