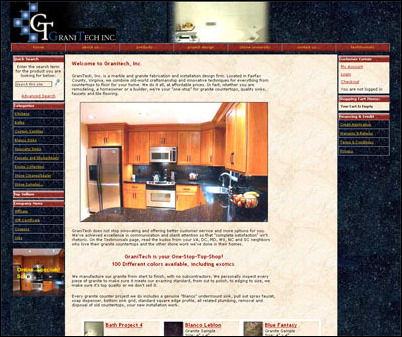 Not only does GraniTech, Inc. offer a quality product, but we've imported granite and marble from around the world in order to offer unique choices for your home.
Lorton, VA (PRWEB) April 26, 2006 -—
According to studies done by both House Remodeling Magazine and HomeBuyersHelpDesk.com, the number one home improvement that adds value to a house is remodeling the kitchen. Don't be worried about a headache associated with organizing such a large project, GraniTechInc.com is now offering a complete service for the measurement, fabrication, and installation of customers' personal choices for a granite package for your kitchen.
The package made possible by the wholesale granite countertop supplier, GraniTechInc.com, includes everything needed to install a granite kitchen countertop. They are literally a "one-stop-shop" for hassle-free granite countertop installation. The new service includes measurement, fabrication, installation, a choice of 5 C-Tech sinks, 8 faucets, 90 wholesale granite countertop stock colors, and 4 edge details. In addition to plumbing reconnections, performed by licensed plumbers, any package purchased, for a limited time, will come with a StoneTech Granite Care Kit. The package service also includes a complimentary Blanco soap dispenser, cut-outs, large arcs and radius corners. Best of all, GraniTech, Inc. pays all the taxes! GraniTech, Inc. also provides a free in-home estimate as well as removal and disposal of existing countertops.
Owner and CEO Ali Yilmaz notes that a granite tile countertop is not the only option homeowners have, "Not only does GraniTech, Inc. offer a quality product, but we've imported granite and marble from around the world in order to offer unique choices for your home." If you are trying to decide between granite and marble, it is important to note that granite is the most durable countertop material available today. Marble is considerably softer than granite, but adds an elegant and upscale feel to the kitchen.
A bathroom update is second to kitchen remodeling in terms of most return on your home improvement investment. HomeBuyersHelpDesk.com reports that 150% of your investment in a remodeled kitchen can be gained back at resale, and 60-80% of your remodeled bath investment can be regained at closing time.
House Remodeling Magazine reports lower but still impressive numbers. They say that a remodeled kitchen adds 80-110% value to your home and a bath renovation like custom bathroom vanities adds 80-115% additional worth.
Remodeling your bathroom with custom bathroom vanities, marble bathtubs, or other high-end features can be a harrowing process. Most homeowners have to deal with multiple companies to get one finished product. GraniTechInc.com cuts out the middle man so that customers only have to deal with one company from start to finish. Yilmaz stresses the importance customers have with his company, "GraniTech, Inc. never stops innovating and offering better customer service and more options. We've achieved excellence in communication and client attention so that 'complete satisfaction' isn't just rhetoric."
Other products available at GraniTechInc.com for kitchen and bathroom remodeling needs include marble floor tiles, showers, granite vanity tops, custom sinks, discount granite tiles and marble vanity tops.
For more information on buying wholesale granite countertop or custom bathroom vanities, please visit GraniTechInc.com.
About GraniTech, Inc.:
Located in Fairfax County, VA, GraniTech, Inc. is a design firm that offers homeowners in the Virginia, Maryland, West Virginia, and D.C. areas marble and granite fabrication and installation. For people outside of those areas, CEO Ali Yilmaz notes that Granitech also offers wholesale granite online.
###