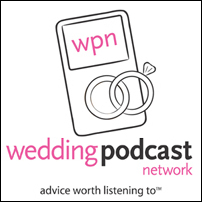 Livingston, NJ (PRWEB) April 26, 2006
You're invited to engage your iPod in something new – The Wedding Podcast Network. Getting married? Have a million things to do before your wedding day? Honeymoon? The Wedding Podcast Network (The WPN) breaks new ground in the wedding industry by providing couples with a new and innovative way to get wedding planning advice. This free service gives brides a variety of firsthand information in one convenient, easily accessible place. With little time to page through magazines or research hundreds of websites, The Wedding Podcast Network is the destination devoted to informing and entertaining couples on planning a successful wedding.
About The Wedding Podcast Network:
The Wedding Podcast Network is the first and only place on the web to listen to advice on wedding planning from brides, grooms, newlyweds and wedding professionals. Founded in 2005, Robert Allen and Holli Ehrlich, co-founders married 14 years, know today's bride is overwhelmed by the challenge of planning for her big day. She is information hungry and constantly on the move. They realized with the advent of the iPod and portable mp3 players that they could create relevant content with an expanded focus on wedding topics and personalities that brides could listen to not found in traditional media. Their podcasts are educational, inspirational and entertaining. Their hopes are to liven up wedding planning for a new generation of savvy brides.
Robert & Holli realized the need for a portable, on demand listening experience – when and where she wants – at the gym, the commute to work, walking her dog, cooking, as a mid-day treat or a night time escape. Discussion-based podcasting is a way for consumers to get information based on their preferences and timing. A bride can listen time and again to podcasts while planning for the wedding of her dreams. The WPN has exclusive behind-the-scenes interviews covered at premiere bridal shows and events. Professionals share thoughts and insights for brides everywhere. Hear stories of romance, emotion and love! Wedding enthusiasts need a break from the mainstream planning resources. The Wedding Podcast Network offers a personal, authentic way to communicate with their listeners with conversations never before heard anywhere else.
What is a Podcast?
A podcast is nothing more than a digital audio file, just like any other song or MP3 file on your computer. It's what's inside the file that's causing all the buzz. Podcasting is the audio equivalent of TiVo. It is available for easy download and can be played on your computer. Podcasting's essence is about creating audio content for an audience that wants to listen when they want, where they want, and how they want. In the last 18 months, podcasting has emerged as the single most important media innovation since the birth of the web, with an audience of millions generating hundreds of millions of downloads.
Click here to listen to a podcast about The Wedding Podcast Network
Get inspired. Hear what's hot and happening in the world of weddings. Bridal advice, interviews, tips, trends. Original programs currently available online at http://www.weddingpodcastnetwork.com:
For further information, please call 800.882.1259 or visit http://www.weddingpodcastnetwork.com
Media Contact:
Holli Ehrlich
800-882-1259 ext 22