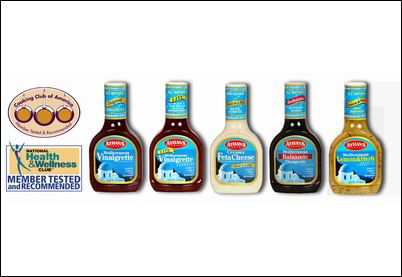 shows that the interest in the healthy Mediterranean Diet is increasing rapidly
Port Washington, NY (PRWEB) April 27, 2006
The founder of Ayhan's Mediterranean Brands has announced the introduction of four of Ayhan's award winning salad dressings into the World Food Section of Meijer Retail Supercenters at over 100 locations across the Midwest. Together they plan to introduce the Midwestern United States to the savory foods of the healthy Mediterranean cuisine and lifestyle.
The expansion of Ayhan's Mediterranean Dressings into the Midwest, "shows that the interest in the healthy Mediterranean Diet is increasing rapidly," says the founder of Ayhan's Mediterranean Brands. "We are proud to offer products that help people enjoy a delicious and satisfying cuisine that can be used for weight loss or as a healthy lifestyle."
The health-giving benefits of the Mediterranean diet has been extensively researched and demonstrated to promote longevity and good health. It was featured in USA Today as "the best diet ever" and has been shown to help fight Alzheimer's, heart disease and metabolic syndrome. Notably, the popular Sonoma and South Beach diets are both based on the Mediterranean diet.
Meijer's will introduce the brand into its World Food section with four of Ayhan's dressings including the award winning Lite Vinaigrette, the Balsamic Vinaigrette and the zesty Lemon & Herb. These three flavors are All Natural, have no or low sugar. The fourth flavor is America's only Creamy Feta Cheese Dressing. All four dressings contain "anti-aging" Vitamin E, have no Trans fatty acids and are low-carb and Gluten free.
Ayhan's All Natural Lite Vinaigrette has the Seal of Approval by Total Health & Wellness magazine. It has only 60 calories per serving and is made with Olive oil.

Ayhan's All Natural Balsamic Vinaigrette has only 50 calories per serving but is so flavorful that it is recommended by the Cooking Club of America.
Ayhan's Creamy Feta Cheese Dressing is America's ONLY creamy feta cheese dressing with only 100 calories per serving, Ayhan's Creamy Feta Cheese has less calories and fat than other popular brands such as Hidden Valley Ranch, Ken's Chunky Blue Cheese and Wishbone's Creamy Caesar. Ayhan's Creamy Feta Cheese Dressing also makes a savory dip.
Weight and health conscious Meijer customers will be offered a special value as part of this introduction of the Ayhan's Mediterranean salad dressing. Ayhan's dressings are used in Ayhan's Mediterranean weight loss program, which has been endorsed by doctors and is customized for each client by dietitians. The first 4 weeks of the plan will be offered to Meijer's customers for free (a $20 value). Recipes are also available online at amdiets.com.
About Ayhan: Ayhan has been serving Mediterranean food to appreciative Long Island guests for over 27 years in his 7 Mediterranean restaurants. Ayhan has been featured on Good Day New York, Fox News and in the NY Times, USA Today, Newsday and the NY Post.
About Meijer: Meijer started out as a local grocer - offering the best products and prices for food and general merchandise in 1962. Founded as the birth of one-stop shopping, it has since grown into a Supercenter featuring over 40 departments with over 170 stores across the Midwest. They continue to add more stores with their original philosophy in mind - extraordinary selection, low prices and friendly service. Meijer stores are open 24 hours a day, 364 days a year.
###