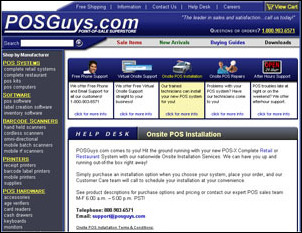 We've got a formula that other providers will aspire to duplicate, so in the grand scheme of things, eventually all point-of-sale customers will benefit.
Bellingham, WA (PRWEB) April 27, 2006
POSGuys.com, the premier online source for retail and restaurant point-of-sale equipment, adds value for customers with redesigned internal Help Desk services and two new support options for POS-X Complete POS Systems – on site installation and on site repair.
"We saw a need to fill a customer service gap in our industry," explains owner, Dan Moseley. "As a general rule, online POS providers offer only basic phone support, providing customers with bare-bones manufacturer warranty and contact info. POSGuys.com has always stood out from our competition with free internal phone, email, and virtual support for our customers. With the launch of our new Help Desk services, including nation-wide on site installation and support for POS-X Complete Systems and after-hours phone, email and virtual support for most products we sell, we are the only distributor in our class offering the 360-degree support model customers deserve."
Moseley adds, "In the retail or restaurant business, the point of sale system is the heart of the operation. If the heart stops beating, resuscitation has to be swift and capable." Now, when a customer calls POSGuys.com Help Desk with a critical system-down situation, POSGuys.com can dispatch an on site technician for both warranty and non-warranty repair of POS-X Complete Retail and Restaurant Systems anywhere across the U.S.
POSGuys.com Help Desk manager, Randy Cantrell comments, "On site services are designed to augment our existing free internal support offerings with an affordable option for POS-X customers who need to get a new system up and running right away, request warranty repair, or want per-incident on site support. We've listened to our POS-X customers – they are busy business owners and managers who want someone at their location to just take care of the technology element so they can concentrate on their operations."
"New POS-X customers can opt for on site installation services of POS-X Complete Systems at the time of purchase," notes sales manager, Stephen Hendricks, "and may select an on site warranty service package to supplement their POS system's standard warranty." Existing customers can request on site support on a per-incident basis, making on site visits accessible to retail and restaurant businesses with expired POS-X warranties.
As POSGuys.com sets the standard for support services among POS providers, Moseley feels the customer is the big winner. "We've got a formula that other providers will aspire to duplicate, so in the grand scheme of things, eventually all point-of-sale customers will benefit."
About POSGuys.com
POSGuys.com is a leading online provider of point-of-sale equipment, barcode scanners, complete POS systems and POS software. Committed to outstanding customer service and expert support, POSGuys.com provides warehouse, inventory, and POS solutions for businesses of all sizes and industries throughout the United States and Canada.
###