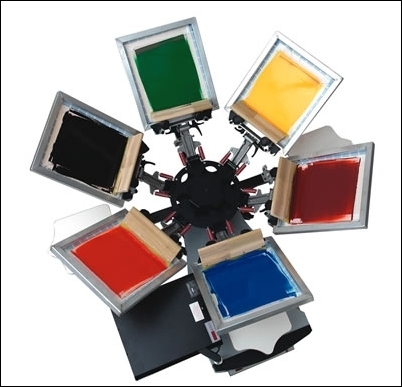 Kirkland, WA (PRWEB) April 26, 2006
The most compact and versatile silk screen and textile screen printing press on the market right now is the 770 Series offered by Printa Systems. This ultra solid, commercial press is available as a four-color/single station, a four-color/four station, and a six-color/four station. It requires only 50 square feet when in operation and 10 square feet of storage space. With a wide variety of system packages to choose from, you can select the best options to suit your screen printing needs, whether you are just getting started in a home based business or you are expanding your existing business.
The 770 Series features a patented dual pin registration system that is the key to quick set up. The 770 Series employs a dual function, onboard exposure unit that doubles as a light table. The screen alignment system has precision tapered screen pins and tapered clamp portals that allows the printer to expose the screen onboard, to remove the screen from the press for rinse out, then replace it in exactly the same position after drying with exact registration. The unit also has a space saving and convenient built-in screen drying and storage cabinet and a flash-cure unit.
Printa Systems offers a lifetime warranty as well as factory training, training videos, technical manual, unlimited toll-free technical support, and blank product sourcing and multiple warehouse locations for 1-3 day shipping of supplies and commodities anywhere in the US.
For more information on Printa's multipurpose silk screen and textile screen printing equipment, please visit http://www.printa.com.
About Printa Systems
Printa Systems is a Kirkland, Wash., manufacturer that develops innovative, easy to use, compact and affordable promotional product decorating systems. Printa Systems offers complete solutions for individuals and companies interested in adding textile screen printing, silk screen printing, pad printing, cylindrical printing and dye sublimation / heat transfer equipment to their new or existing business. All systems include hands on training, unlimited customer support and exclusive lifetime warranty. For more information, visit Printa Systems at http://www.printa.com, e-mail: info @ printa.com or call (800) 601-6240.
Contact:
Cynthia "Mo" Goss
Printa Systems
127 10th St. South #600
Kirkland, Wash. 98003
425-828-8933
# # #