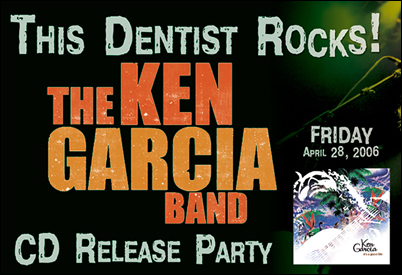 It's a Good Life
Anaheim, CA (PRWEB) April 26, 2006 -
The Anaheim Convention Center expects over 30,000 professionals from the dental industry on Friday, April 28, 2006 for the Annual Spring Session Conference of the California Dental Association (CDA). When the conference ends at 5pm these professionals need a place to dine and socialize. What better place than the House of Blues in Anaheim, a short walk from the convention center and major hotels.
Just because a restaurant is within close proximity to a convention, doesn't make it the industry "hot spot". That's what an IndustryNight.com party does. It helps everyone at the convention find the place to go for fun when work is over. IndustryNight.com parties are great for people who are traveling to a convention from another city.
IndustryNight.com, the party with the slogan "You Supply the Industry, We Supply the Night" is the nationwide, multi-industry networking event for young professionals created by Ones We Love (OwL).
What makes the Dental Professionals Industry Night party unique is the headliner of the show is a well respected dentist. Ken Garcia, a very successful Laguna Beach dentist and host of the show, is an incredible singer, songwriter and musician. Ken will debut his new CD, "It's a Good Life" during the show. Ken will be accompanied by Anthony Jasso, also a dentist, from the band Jasso & Garcia. Ken and his band are well known throughout Orange County. To have them perform at the House of Blues is a major event that will be enjoyed by all in attendance.
In addition, Common Sense, a very popular Orange County reggae band will perform. Common Sense has performed sold out shows at House of Blues locations in several cities including Anaheim. Guests from outside of Orange County not familiar with Ken Garcia and Common Sense are in for a great party and concert. Following the live entertainment, DJ Vinyl Manipulator will perform to close out the show.
Tickets to IndustryNight.com are available online at http://www.industrynight.com or http://www.hob.com. General Admission is $30.00 and VIP for $100.00. Tickets can be purchased at the House of Blues box office or TicketMaster. Advance purchase is recommended as a sold out show is expected. VIP Includes a dinner buffet from 7pm until 9pm, complimentary Ken Garcia CD, "It's a Good Life" and other promotional giveaways from sponsors.
Consistent with all of OwL Enterprises promotions, a portion of the profits from this event will be donated to charity. The charities identified for this concert are the CDA Foundation and the Surfrider Foundation.
###