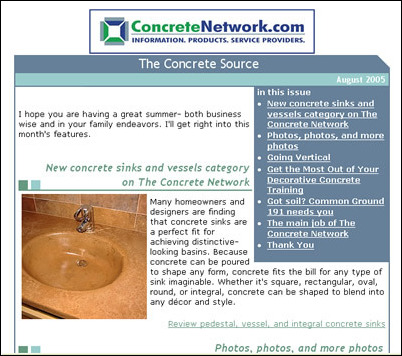 Yucaipa, CA (PRWEB) April 28, 2006 –
The Concrete Network, the largest and most comprehensive source for concrete information offers a free monthly e-newsletter for those interested in building or designing with concrete. "The Concrete Source" is the number one resource for those who are looking to stay current on all that is new and exciting in the decorative concrete industry.
"The Concrete Source" is a short, crisp, easy-to-read email newsletter. It consists of fast reading article abstracts with links to the full story on ConcreteNetwork.com. Information is generated from The Concrete Network Web site. Each month "The Concrete Source" highlights some of the industry's latest trends and techniques, and focuses on some of the innovative companies and individuals who are paving the way in the industry. It also features guest articles from popular industry speakers and consultants on technical construction and business topics.
According to Jim Peterson, president of The Concrete Network, "The articles cover popular decorative concrete applications such as staining concrete, stamped concrete and concrete countertops. There are also lots of photographs, technical information for contractors, and links to free, full color catalogs with design tips and ideas."
Sent to over 15,000 subscribers each month, the e-newsletter appeals to concrete contractors, architects, general contractors, designers, engineers, homebuilders, landscape designers, manufacturers/suppliers, and many others who can use the monthly newsletter to get ideas, scopes of work, specifications, product literature and links to other related information on ConcreteNetwork.com. Subscribe to "The Concrete Source" online. (The Concrete Network does not sell or distribute its mailing list to any other parties or organizations.)
Established in 1999, The Concrete Network's purpose is to educate consumers, builders, and contractors on popular decorative techniques and applications including stamped concrete, stained concrete floors, concrete countertops, polished concrete, and much more. Over 750,000 visitors research The Concrete Network Web site each month. The site excels at connecting buyers with local contractors in their area through its Find-A-Contractor service. The service provides visitors with a list of decorative concrete contractors throughout the U.S. and Canada, and is fully searchable by 22 types of decorative concrete work and 198 metropolitan areas throughout North America.
For more information, please visit http://www.concretenetwork.com
###