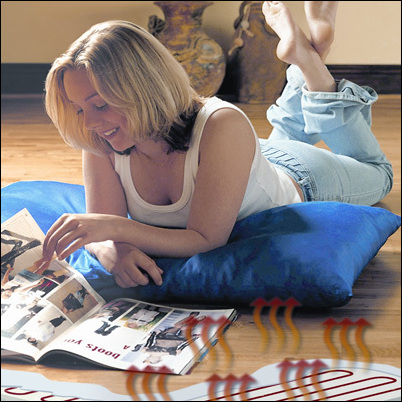 The idea behind www.speedheat.us/comfort_benefits.htm [electric radiant floor heating] is really quite simple
Atlanta, GA (PRWEB) April 27, 2006
Whether fueled by the proliferation of home improvement shows or the growing popularity of design and decorating magazines, American consumers have seemingly insatiable appetites for luxury upgrades in their homes. A recent survey released by the American Institute of Architects (AIA) reported a growing desire by consumers for larger kitchens and bathrooms that are fully loaded with the latest high-end upgrades including heated floors.
While heated floors were once a luxury reserved for the rich and famous, times have changed. With recent advancements in electric radiant floor heating and quality companies such as Speedheat® now bringing fine European luxury items to the U.S., many consumers are discovering that heated tiles (as well as other flooring materials warmed to perfection) are an affordable and desirable upgrade.
"We have Speedheat in our living room, and we love it," says Lisa Merrion of Canton, GA. "Our two little girls really enjoy sitting on the warm floor, and since we are able to warm the area where we spend the most time, we actually use less heat than before. I would love to add Speedheat to our bathroom as well because it feels so wonderful when you walk on it. I would also recommend the product for any room where you spend a considerable amount of time, such as the playroom, nursery or living room."
As Ms. Merrion has discovered, enjoying luxurious warmth in any room of the home is simple and easy with Speedheat. Their Generation4™ systems can be installed 'in touch' with virtually any flooring material placing them in a prime position to help consumers maximize this new floor warming trend.
"The idea behind electric radiant floor heating is really quite simple," explains Peter Newman, President of Speedheat U.S. "By installing a heating element under the flooring material, heat naturally rises and warms the room from the ground up with a soothing radiant effect."
While the concept behind Speedheat's patented Generation4™ (G4) heating system is easy to comprehend, the advanced technology behind their products offers many distinct advantages and sets them apart in the industry.
"Because Speedheat's patented Generation4™ heating element is optimally engineered to be 'in touch' with floor finishes, it warms floors faster than any other systems and at lower, safer temperatures," explains Pieter Jansens, Chairman of Speedheat International. "Our G4 element improves comfort, health and safety. It also protects sensitive flooring and slashes energy consumption. Furthermore, only Speedheat is fully customized to meet the specific needs of each application."
Speedheat® Systems are a Perfect Fit Under Virtually Any Flooring Material:
Whether building a new home or remodeling, Speedheat's Generation4™ systems are easy to install in a single room or throughout an entire house. From renovation projects to new construction, Speedheat offers the ultimate in flexibility, control and comfort:
Add warmth under ceramic tile, marble and even exotic stone. Even in the depths of winter, your floors will be warmed to perfection with Speedheat. Our fully-programmable thermostat with its own GFCI protection makes the system absolutely safe in wet areas, kitchens, bathrooms, utility rooms and around spa tubs.
While hardwood floors are becoming increasingly popular, they feel uncomfortably cold underfoot when the temperatures drop. Now you can replace that unpleasant chill with the luxurious sensation of stepping on warm wooden floors — even on the coldest of days. woodBEwarmer™ is easy to install and safe under floating wood and laminate flooring and uses gentle radiant heat that does not cause thermal damage to wood fibers.
Installing Speedheat zones under new or retrofitting under existing carpets boosts your comfort during the winter…especially in basements and other hard-to-heat areas. In fact, Speedheat's under carpet heating system is so safe, you can even steam clean your fitted carpets with a traditional water extraction process without removing the heating mats.
Another unique "zone heating" option is RugBuddy™ — the only UL-listed heating mat in the world, approved for use under area rugs. It is an ideal solution when installing traditional electric radiant floor heating is not an option. Like an electric blanket for the floor, RugBuddy™ turns regular area rugs into invisible space heaters and is an ideal solution for warming cold spots in any room of your home or office.
An Innovative Leader for Over 20 Years:
As inventors of Generation4™ electric radiant heating, Speedheat has produced quality solutions since 1985. Speedheat has offices in 10 countries and is currently heating more than 30 million square feet of space worldwide.
Backed by the Industry's Best Safety and Satisfaction Guarantees:
Speedheat's feather thin heating element is less than 1/16" in diameter, and the warming panels consist of the looped element laminated between two layers of polyester. The full-surround ground screen is an effective EMR, EMI and RFI shield, and GFCI protection provides absolute electrical safety. All Speedheat products have undergone rigorous testing, including complete submersion in water while energized. Speedheat's products are all UL-listed and National Electric Code (NEC) compliant. Speedheat stands behind their products with their 100% committment to quality and satisfaction, and they are backed by their 20-year reputation as a world-leader in the industry.
Recent Publicity:
This Old House Magazine recently featured Speedheat in their "20 of the Year's Coolest Tools, Gizmos and Gadgets" list. Speedheat also received publicity in do! magazine, Atlanta Home Improvement magazine, Atlanta's Points North magazine, HGTV's International Builder's Show, FloorRadio, FloorDaily.net, RugInsider.com and the Ask Andrea™ nationally-syndicated home improvement radio show.
Distributor Opportunities Still Available:
Speedheat is still seeking additional distributors in America for their products. For more information, please contact Peter Newman at 1-888-WARM-FLOOR (1-888-927-6356) or visit http://www.speedheat.us.
Additional Information
For general information, pricing estimates and installation scheduling, please contact Ingrid Weir at 1-888-WARM-FLOOR (1-888-927-6356) or visit http://www.speedheat.us.
###