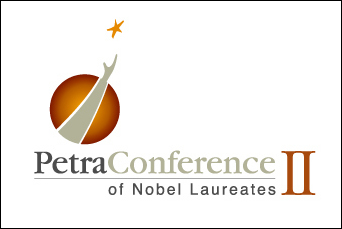 Petra II: A World in Danger
Petra, Jordan and New York, NY (PRWEB) April 27, 2006
With human development stalling in many parts of the world, with opportunity still lacking for many, and with instability still threatening to derail hopes of peace around the globe, The King Abdullah II Fund for Development and the Elie Wiesel Foundation for Humanity invited the world's Nobel Laureates, heads of state and other esteemed leaders representing different nationalities, religions and creeds to gather in Petra, Jordan once again to discuss and define their roles in responding to these emergencies.
His Majesty King Abdullah II of the Hashemite Kingdom of Jordan said, "We all share a responsibility to act -- to address the inequalities, asymmetries and threats to peace that abound. For more than 100 years, Nobel Laureates have represented excellence in the pursuit of humanity's advancement, and Elie Wiesel and I have invited this distinguished group along with a number of leaders from different disciplines to convene once again in Petra and carry this promise of generations forward."
Agenda items for the two-day Petra II conference include
· Challenges to Global Security and Human Development;
· Strategies and Activities of the Nobel Laureates Initiative;
· The Israeli-Palestinian Peace Process and Regional Issues; and
· Darfur Commission of Nobel Laureates.
Elie Wiesel, founder of the Elie Wiesel Foundation for Humanity and the 1986 recipient of the Nobel Peace Prize said, "It is both humbling and awe-inspiring to work among fellow Nobel Laureates, leaders and His Majesty King Abdullah II to explore the most critical problems of our time. Last year in Petra, we launched the Nobel Laureates Initiative to deepen cooperation and foster regular communications between Laureates. This year, we will report advancements made by the initiative, as well as define a role for Nobel Laureates in response to humanitarian emergencies."
Expected participants, moderators and media leaders of "Petra II: A World in Danger" will include Nobel Laureates from all six disciplines (Peace, Economics, Literature, Physics, Chemistry, and Physiology and Medicine). Joining the Nobel Laureates will be world-renowned leaders from the public and private sectors, as well as from civil society. A sampling of those in attendance include Former U.S. Ambassador to the United Nations Richard C. Holbrooke, Founder of Medicines sans Frontiers Bernard Kouchner, Former U.S. Surgeon General David Satcher, Deputy Prime Minister of Thailand Sathirathai Surakiart, The Rockefeller Brothers Fund Representative Stephen Heintz, and Library of Alexandria Representative Ismail Serageldin. Attending Nobel Laureates include in Chemistry: Peter Agre, Aaron Ciechanover, Johann Deisenhofer, Avram Hershko, Yuan T. Lee; in Medicine: Richard Axel, Baruch S. Blumberg, Christian de Duve, Eric R. Kandel; in Physics: Georges Charpak, Claude Cohen-Tannoudji; in Economics: Finn E. Kydland, Robert A. Mundell; in Literature: Wole Soyinka; and in Peace: Frederik W. de Klerk, Jose Ramos-Horta, The Dalai Lama.
About the Venue:
Jordan has been host to a number of international events and conferences including the World Economic Forum meetings at the Dead Sea and the Arab League Summit in Amman. The ancient city of Petra, one of the world's wonders and cradle of human civilization, will serve as inspiration for human creativity, ingenuity and inspiration to think, to create and to propose solutions. "Petra II: A World in Danger" will be produced by Publicis Events Worldwide and represented by Chairman and CEO Richard Attias.
About The King Abdullah II Fund for Development:
The King Abdullah II Fund for Development (KAFD) was established in 2001 as a non-governmental organization working to provide all segments of the Jordanian community, particularly the underprivileged, with new and innovative economic opportunities aimed at improving their standards of living. http://www.kafd.jo
About The Elie Wiesel Foundation for Humanity:
Elie Wiesel and his wife, Marion, established The Elie Wiesel Foundation for Humanity soon after he was awarded the 1986 Nobel Prize for Peace. The Foundation's mission, rooted in the memory of the Holocaust, is to combat indifference, intolerance and injustice through international dialogue and youth-focused programs that promote acceptance, understanding and equality. http://www.eliewieselfoundation.org
About Publicis Events Worldwide:
Publicis Events Worldwide, specializing in world-caliber events and experiential communications, is part of Publicis Groupe S.A. [NYSE:PUB], the world's fourth-largest communications company. Publicis Events Worldwide is headquartered in New York City with offices spanning the globe including Paris, Geneva, Frankfurt, Dubai, Orlando, Chicago, Vienna, Munich and Casablanca among other hubs. http://www.publicisevents.com
###