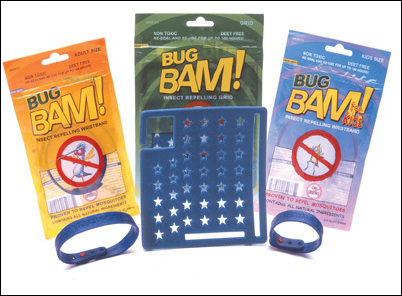 Safety is the key throughout mosquito season
Los Angeles, CA (PRWEB) April 28, 2006
It's a bracelet! It's a mosquito repellent! It's BUG BAM!™ Today, Bug Bam! launches its innovative line of safe and all-natural insect repellents in time for mosquito season! Bug Bam!'s proprietary formula has been tested and proven by one of the world's leading laboratories for insecticide products. So take a bite out of summer worry and snap on a Bug Bam! to keep those mosquitoes away! Repelling has never been easier!
Bug Bam! offers a complete line of insect repelling products, but is best known for the signature Bug Bam! wristband (similar in design to the popular Live Strong wristband) that snaps onto your wrist or ankle, providing a fashionable and effective alternative to messy lotions and sprays. Each wristband comes in a vapor proof, resealable bag for multiple use. The best part is that Bug Bam!'s unique formula is an all-natural, non-toxic, DEET-free and child-safe alternative to the majority of insect repellents that contain harmful chemicals like DEET.
"Safety is the key throughout mosquito season," says Joseph Symond, founder and president of Bug Bam. "It's time people started thinking of not only protecting themselves from disease carrying mosquitoes, but also from the toxic and harmful chemicals used by most other insect repellents. The United States Library of Medicine reported the negative side effects of DEET in a recent study. Our Bug Bam! products are just as effective as DEET, but without any of the side effects."
With Malaria still topping the list of the world's biggest killers of humans and the West Nile Virus still a real concern throughout the United States, simple steps can help with mosquito abatement. Other ways to prevent mosquito bites include:
Drain standing water around the house like flower pots, mosquitoes lay their eggs in standing water....the perfect breeding ground!
Wear long-sleeve shirts and pants when possible! Cover up that skin!
Avoid peak mosquito hours outdoors including dusk and dawn.
Avoid wearing perfumes or hairsprays. Mosquitoes like the finer smells in life!
And of course, wear your Bug Bam! wristband or use other effective Bug Bam! products.
In addition to the popular Bug Bam! Wristbands, Bug Bam! offers other repelling products that currently include camp grids, kids wristbands, repellent spray (for animals too!), bite relief ointment and repellent fans. Bug Bam! products have been successfully tested and used by Sir Richard Branson, the US Navy in Guantanamo Bay, the Department of Veteran Affairs and the Delano Hotel in Miami Beach .
For great insect education, to learn about the dangers of DEET and other mosquito information, or to purchase Bug Bam! products today please log onto http://www.BUGBAM.COM.
A Bit About Why Bug Bam Works:
Bug Bam! products contain a proprietary fragrance formula derived from 100% plant extracted essential oils that are pleasant to humans, but knocks the bugs for a loop.
There are only two proven ways to repel mosquitoes and other flying, biting insects.
1) Cover your exposed skin with chemicals such as DEET (see 'Dangers of DEET' at BugBam.com)
2) Use a product or formula that emits a smell that is stronger than your own and can keep these insects from detecting your presence. And that's exactly what Bug Bam! does.
The main ingredients of Bug Bam! products are on the GRAS (generally regarded as safe) ingredients list that the US EPA has assembled. Unlike the oil itself, the fragrance is what is released from each wristband.
Over an eight year period, tests were conducted in both labs and on humans to prove the effectiveness of Bug Bam!'s formula. As most disease carrying insects are scent driven, they respond to people and the carbon dioxide that we emit from our bodies.
Wearing a Bug Bam! reduces a flying, biting insect's ability to sense most people's presence. In a sense, you become "invisible" to the insect.
###