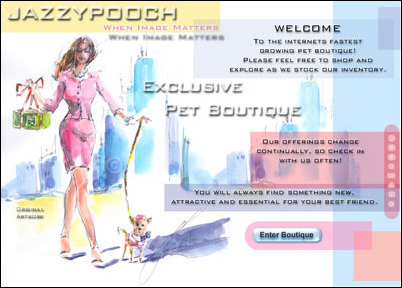 I dream of little dogs on the runway in my designs.
Cranston, RI (PRWEB) May 8, 2006 —-
It's no secret that designer dog apparel has become the rage thanks to celebrities and their pets like Jessica Simpson and Daisy, Paris Hilton and Tinkerbell, and Nicole Ritchie and Honeychild. These famous pooches are always outfitted in the finest, rivaling even their owner's attire.
Kat is one half of the mother-daughter team behind JazzyPooch.com. While designers dream of having celebrities wear their creations at the Oscars, Jazzy pooch.com's Kat aspires, "I dream of little dogs on the runway in my designs." Her mother, K. Madison, relies on her own designer skills and buyer expertise to offer high-end stylish dog clothes and designer pet accessories. One hot accessory that makes a perfect Mother's Day present is the Faux Pearl Heart Locket for Mommy and Me. This gorgeous piece opens to reveal of picture of the V.I.P. (Very Important Pooch) and its adoring owner.
For the discerning shopper of trendy pet fashions, Madison can be commissioned to create custom stylish dog clothes through JazzyPooch.com. They also offer a unique sizing program to tailor fit any of their designer pet clothes to your pooch perfectly. All dog wear is handmade in the U.S. A unique distinction of Jazzypooch is that the owner has the option of commissioning matching or coordinating human apparel.
It is important to note that unlike most small dog apparel, JazzyPooch Couture is made for the pup and not the owner. While owners are sure to love their stylish dog clothes, it is the dog that mother and daughter colleagues, K. and Kat Madison, think about when designing these trendy pet fashions. Not only do they focus on the comfort and mobility of your special canine, but they insist that a pooch knows when he/she looks good in the designer pet accessories. That esteem of a happy dog is what they strive for in their couture creations. K. Madison states, "We want the best for you and for your special friend. Our goals are high. I was taught mediocrity was never acceptable." And she adds, "Of course, the very best part of this effort is to have my daughter, Kat, as my partner."
Kat is a talented writer and contributor to her high school journals. She speaks three languages and plans college studies abroad.
K. Madison says she had an early start, outfitting her pet dogs for play. Now teamed with her daughter, Kat, she offers designer canine couture, accessories, and, forthcoming, a line of canine furnishings.
To see the spring line of customized dog clothes and designer pet accessories, please visit JazzyPooch.com.
About JazzyPooch.com:
K. Madison had an early start outfitting her pet dogs at a young age. Now, teamed with her daughter Kat Madison, she began JazzyPooch.com to offer handmade designer dog couture, accessories, and furniture. Kat is also a talented journalist and writer that speaks three languages and plans to study college abroad.
###