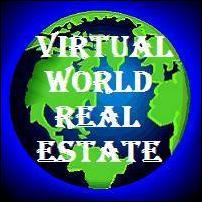 With Virtual World Real Estate, owners will get much more than a small image buried in a collage of other images
SLC, UT (PRWEB) May 1, 2006
Walter Fairley of Omega-Mart must believe 7 is his lucky number. He just purchased Pennsylvania and Israel for a sum of $77,777. Obviously, Fairley did not purchase the actual state and country -- rather he purchased advertising space on the new Web site Virtual World Real Estate. At first the president of Virtual World Real Estate, Gary Ewell, believed that the payment he received for $1,777 was to own a small area in Pennsylvania and Israel. To Ewell's surprise it was just the initial deposit to own the whole state of Pennsylvania plus the entire country of Israel. Fairley's reason for buying both large pieces of land is simple -- he just had to have them.
For Fairley, and the others that have opted into the Virtual World Real Estate service, buying large pieces of "land" means attracting more consumers to a site. They are all hoping that their investments will pay off over the next few years. Each piece of land is viewable, and clickable, to potentially millions of consumers. The site also offers users the opportunity to buy a piece of property for investment purposes and later resell it for more than the initial price.
As opposed to pixel advertising sites like the million dollar homepage, VirtualWorldRealEstate.com sells 250 acres of land for just a penny, not to mention that it's more fun to buy virtual real estate then to buy a square on a static web page. The more acres an advertiser buys, the more likely a consumer will visit the site. Ironically, many pixel advertising sites are buying land on Virtualworldrealestate.com, which speaks good things for the site.
"With Virtual World Real Estate, owners will get much more than a small image buried in a collage of other images," said Ewell. "Owners get advertisements placed in their target locales with full size pop-ups of their images being shown whenever consumers move their mouse cursors over the properties. Users will enjoy exploring the virtual world and seeing what's there. There is a sense of adventure and exploration to this site."
VirtualWorldRealEstate.com also has a property listing page that displays all properties purchased from largest to smallest. As expected, the recent purchases by Fairley are on the top of this list.
More information can be found at Virtual World Real Estate
###