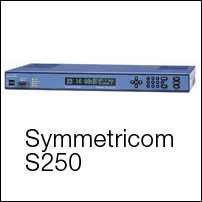 Free engineer-led tours of the InteropNet allow attendees to gain valuable insight into networking best practices.
San Jose, Calif. (PRWEB) May 1, 2006
Symmetricom, Inc. (NASDAQ: SYMM), a worldwide leader in precise time and frequency products and services, today announced its high-performance GPS (Global Positioning System) NTP network time server, SyncServer® S200, is providing precise time for the InteropNet network at Interop Las Vegas on Tuesday, May 2 – Thursday May 4, 2006 at the Mandalay Bay Convention Center in Las Vegas, NV. The live technology implementation of the unique InteropNet program is a sophisticated leading-edge network comprised of the most innovative, hand-selected equipment vendors providing the most reliable connectivity to over 400 exhibitors at Interop Las Vegas.
"The InteropNet owes its design and development to an ever growing community of resourceful and dynamic network professionals who have pushed boundaries to create the leading-edge demonstration that is the InteropNet today," commented Glenn Evans, lead network engineer, InteropNet. "Free engineer-led tours of the InteropNet allow attendees to gain valuable insight into networking best practices."
The Symmetricom SyncServer S200 NTP network time server is also part of the InteropLabs program at Interop, a live, vendor-neutral, standards-based arena where experts develop, implement and test new solutions in a training type environment. Free classes are also taught by InteropLab engineers providing attendees with an unbiased, practical look at the current state of key initiatives. InteropLab sessions run Monday, May 1 – Wednesday, May 3, 2006.
"It is an honor to be a contributing company to both the unique InteropNet program as well as the InteropLab testing arena," commented Paul Skoog, product marketing manager for Symmetricom. "Interop selects the most reliable, innovative equipment to comprise these important programs that have been a part of Interop for two decades and we are delighted to be once again providing the precise time technology via our SyncServer S200 network time server."
For 20 years, Interop has held a unique place in the IP infrastructure markets, and is responsible for fostering the innovation that has fueled the revolution and evolution in IP networking. With network convergence now taking center stage as the key enabler of the latest technology innovations, Interop will continue to show how all of the pieces fit together to help IT organizations overcome their business challenges.
The Symmetricom SyncServer S200 is a precise and versatile NTP network time server that synchronizes clocks on computers and servers for large or expanding networks and is optimized for the ever-demanding high-bandwidth next-generation networks (NGNs). Numerous design features include scalability and security, high availability and throughput of three independent 10/100Base-T Ethernet ports with IPv6 support, and extreme ease of use with an intuitive web interface with various set-up wizards, all needed to support an NGN.
About Interop®
Interop®, now part of the CMP Media family of global brands, has led the revolution and evolution in IP networking for the past twenty years, and is dedicated to promoting and demonstrating the interoperability of the converged network, applications and devices to seamlessly exchange and use information to address the full range of business challenges facing IT organizations today and tomorrow. As the leading destination for technology buyers and sellers, Interop has fostered the growth and evolution of the IT industry for the past two decades, and remains the most anticipated and only comprehensive IT event. Through in-depth educational programs, workshops, real-world demonstrations and live technology implementations in its unique InteropNet and InteropLabs programs, Interop(R) provides the forum for the most powerful innovations and solutions the industry has to offer. Interop(R) Las Vegas will take place at the Mandalay Bay Convention Center, April 30-May 5, 2006, and Interop(R) New York 2006 will take place at the Jacob K. Javits Convention Center, September 18-22, 2006. For more information about these events, visit http://www.interop.com .
About Symmetricom, Inc.
As a worldwide leader in precise time and frequency products and services, Symmetricom provides "Perfect Timing" to customers around the world, including communication service providers, network equipment manufacturers, U.S. Department of Defense (DOD), aerospace contractors, enterprises, governments and research facilities. Since 1985, the company's timing, frequency and synchronization solutions have helped define the world's standards, delivering precision, reliability and efficiency to wireless and wireline networks, instrumentation and testing applications and network time management. Deployed in more than 90 countries, instrumentation products include atomic clocks, cesium and rubidium standards, VME, VXI, crystal oscillators, Bus Timing, PCI cards and Global Positioning System (GPS) solutions for instrumentation applications, alphanumeric displays, as well as network timeservers for Network Time Protocol (NTP) synchronization and time synchronization solutions. In 2002, Symmetricom acquired TrueTime and Datum, enhancing its position in the world time and frequency markets. Symmetricom is based in San Jose, Calif., with offices worldwide. For more information, visit http://www.symmetricom.com.
# # #