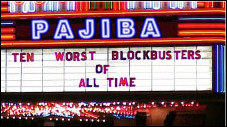 Ithaca, NY (PRWEB) May 3, 2006
As the summer blockbuster season approaches, [Pajiba.com reflects on the history of bloated, big-budget spectacles. In a culture obsessed with the here and now, it might be easy to forget that Jerry Bruckheimer, Arnold Schwarzenegger, Will Smith, Roland Emmerich, Ben Affleck, and Bruce Willis have been polluting suburban multiplexes for almost a generation. Indeed, for the last 10 or 12 years, the studios' goal in producing summer movies hasn't been creating a quality product for mass consumption; it's become about designing a megabudget spectacle built to decimate everything in its path before self-destructing.
In 2003, the average movie registered 41 percent of its total box office take in its first weekend, and that portion is certainly higher now. The major studios studios understand that the formula for success has absolutely nothing to do with quality; it's about creating enough hype and hiding your film from critics long enough to sneak a $50 million opening past the American public before they realize they've been hoodwinked into spending 3 hours' wages for 2 hours of Hulk.
So we at Pajiba decided to look back at the history of the blockbuster and reminisce about how we've all wasted our money in years past. In ranking the Top 10 Worst Blockbusters of All Time, we chose from a pool of the 343 films that have grossed $100 million and combined our own votes with box-office gross and the films' critical success (as measured by the Rotten Tomatoes Tomatometer).
The list, which can be viewed at Pajiba, includes Titanic, Big Momma's House, Star Wars: Episode I — The Phantom Menace, Armageddon, The Rock, and Batman & Robin. Pajiba will release the official rankings on May 3rd.
Pajiba is one of the most popular independent movie review sites on the Internet, registering approximately 800,000 page views per month. Blending a brand of subversive wit, Red-vs.-Blue-state intellectualism, and a conversational style of writing, Pajiba has developed a strong cult following since its inception in the summer of 2004. The Pajiba staff consists of Dustin Rowles (publisher), Jeremy C. Fox (managing editor), Daniel Carlson (lead critic), Phillip Stephens (staff critic), and Seth Freilich (TV critic).
# # #