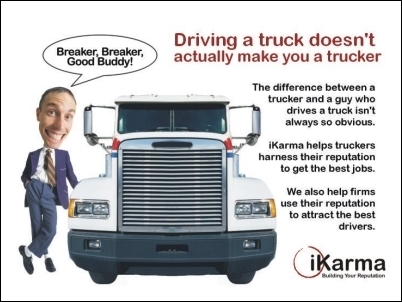 But growth, retirement demographics, and new legislation that limits hours of service have combined to created a talent shortage. Every truck that sits idle costs serious money
JUPITER, FL (PRWEB) May 2, 2006
iKarma.com and HRInterchange, also known as MyTruckJob.com, are proud to announce an integration and marketing partnership designed to bring reputation enhanced employment solutions to the U.S. trucking industry.
iKarma will integrate its online reputation management system into the trucking industry job boards operated by MyTruckJob.com. "The trucking business has always been a thought leader," says Stan Johnsen, President of HRInterchange. "Satellite communications, cell phones, voice mail, and EDI are good examples, and the web opens many new areas for innovation. We think online references and reputation can help our industry do better business. Applying iKarma reputation management to our employment platforms will streamline decision making for everyone."
According to the U.S. Labor Department there are about 1.4 million commercial truckers in the U.S. "But growth, retirement demographics, and new legislation that limits hours of service have combined to created a talent shortage. Every truck that sits idle costs serious money," says Johnsen. "Good drivers are in strong demand."
iKarma will enable trucking companies that pay on time and treat their drivers well to showcase their reputations and attract the best drivers," says Paul Williams. "Likewise, good drivers will be able to command higher pay and better benefits by displaying references and testimonials to their reliability, safety and performance. With driver pay often topping six figures, and trucks filled with million dollar payloads requiring just-in-time delivery, both drivers and trucking firms have much to gain by leveraging the value of their respective reputations."
"We look forward to introducing iKarma.com to the 1.4 million commercially licensed truckers in the US, as well as the estimated 10 million people connected to the industry as a whole," adds Johnsen. "And our team here at iKarma look forward to helping HRInterchange grow and expand," adds Williams. "We all benefit when the best drivers get hired by the best run firms. Transport efficiency affects the prices of everything we all buy or sell."
About iKarma, Inc.
iKarma Inc. is a public company that trades on the Pink Sheets under the symbol IKMA. Based in Jupiter, Florida, iKarma Inc. specializes in providing reputation and customer feedback systems for businesses and professionals. iKarma's mission is to help create prosperity and commerce by bringing greater trust and openness to business transactions. iKarma is a proud member of WOMMA, The Word of Mouth Marketing Association.
About HRInterchange.com
The MyTruckJob.com mission is to serve up and build out the ONLY frictionless employment marketplace and leverage it to service the commercial freight business.
Forward-Looking Statements
This release contains forward-looking statements within the meaning of the Securities Exchange Act of 1934, including the Company's expectations or beliefs concerning, among other things, future operating results and various components thereof. The Company cautions that such matters necessarily involve significant risks and uncertainties that could cause actual operating results and liquidity needs to differ materially from such statements, including, without limitation: (i) increased competition, (ii) changes in the demand for e-commerce and internet based businesses and (iii) changes in general economic conditions. Investors are advised to seek professional advice and conduct a complete due diligence regarding this, or any other company being considered for investment purposes. Investing in securities, particularly in issues priced at less than $1 per share, involves substantial risk and may result in a partial or complete loss of investment capital. Press releases issued by the company should not be interpreted as an offer to sell or a solicitation to buy company stock.
For general information about iKarma, visit http://www.iKarma.com.
For additional information about labor issues facing the trucking industry we recommend these recent articles:
Think convoys are a beautiful sight? Have they got a job for you?
By Barbara Hagenbaugh, USA TODAY 4/25/2006
Wanted: Long-haul truck drivers
By Eve Samples Palm Beach Post Sunday, April 23, 2006
###