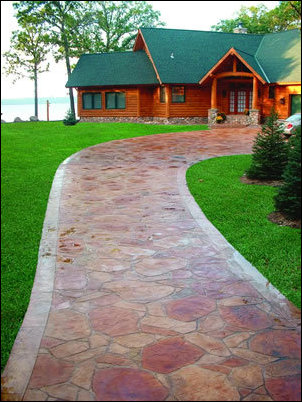 Yucaipa, CA (PRWEB) May 3, 2006
The Concrete Network, the largest and most comprehensive source for concrete information, offers an online decorative concrete driveway photo gallery filled with a collection of photos offering different design ideas on enhancing your driveway through decorative concrete techniques.
It wasn't long ago when deciding on a driveway material was easy: asphalt or concrete. Today, the concrete choice has expanded to include a wide variety of decorative concrete options. With the multitudes of tract homes being built around the country, it can be hard these days to separate your home from the rest. While landscapes are often easy to alter by adding flowers and trees, hardscapes, like driveways aren't always so easy to change.
It is clear to see that the decorative options for concrete driveways are endless and can be designed to enhance the existing landscape. With the simple addition of a stamp pattern, resembling expensive stone, brick, tile, flagstone or slate patterns, the driveway exudes curb appeal, attracting on-lookers to take notice. Custom colors and stains can also be applied to add character and compliment the exterior stucco and other elements of the home.
Concrete driveways offer long lasting durability, are versatile and require low maintenance and are the perfect option for withstanding outdoor weather. Many of the works in these photos can be replicated and/or tailored to meet the needs of the individual, the home, and space restrictions.
The concrete photo gallery is updated every Friday offering new photos of custom and unique driveway designs and applications. Photos for the photo gallery have been collected from contractors around the country and are for design idea purposes only.
Established in 1999, The Concrete Network's purpose is to educate consumers, builders, and contractors on popular decorative techniques and applications including stamped concrete, stained concrete floors, concrete countertops, polished concrete, and much more. Over 750,000 visitors research The Concrete Network Web site each month.
The site excels at connecting buyers with local contractors in their area through its Find-A-Contractor service. The service provides visitors with a list of decorative concrete contractors throughout the U.S. and Canada, and is fully searchable by 22 types of decorative concrete work and 198 metropolitan areas throughout North America.
Photos courtesy of Verlennich Masonry and Concrete and Engrave-A-Crete.
# # #