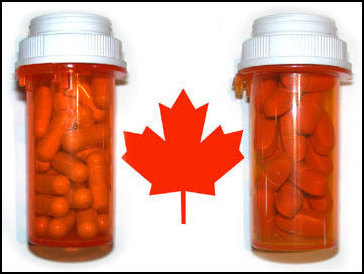 I'm in the hole all right.
Toronto, Canada (PRWEB) May 2, 2006
The infamous Medicare Part D "doughnut hole", or coverage gap, is looming for beneficiaries that are beginning to exceed their initial coverage. Kaiser Family Foundation estimates that nearly 7 million seniors will face the harsh reality of paying full-price for their prescriptions once they exceed $ 2,250 in retail drug costs. To reach the 95% catastrophic coverage, patients must pay over $ 3,600 in out-of-pocket expenses. And since most patients will not be spending through the doughnut hole they will be needlessly paying exorbitant prices for their medications.
In fact, many seniors are reporting that they will be forced to stop taking their medications during the gap which could have serious health consequences. Licensed Canadian pharmacies like ADV-Care (http://www.ADV-Care.com or http://www.PharmacyOnTheNet.com) are a welcome solution to that dilemma by offering savings of 40-70% on the very same medications.
"Shopping Canadian when you hit the doughnut hole may mean the difference between staying on your medications and not being able to afford them at all," says Ramy Attalla, Director of Communications at ADV-Care Pharmacy. "Most patients are finding that paying full retail price for several months is senseless, if not impossible. Ordering from Canada, in that situation, is the perfect answer."
The bulk of Medicare beneficiaries will slide into the doughnut hole in the fall of 2006. However, the issue has already become a painful reality for some. Just four months into the program, Mildred Lindley has hit the point in her coverage where she has to pick up the full cost of the medication she takes to keep her bone marrow cancer in remission. As a result, her two-month supply of Thalomid shot up from $40 to a whopping $1,300.
"If I can't get it, I guess I'm here until the Lord takes me out. That's all I can do, because there's no way I can afford it," said Lindley, an 80-year-old from Jonesboro, Ark. "I'm in the hole all right."
Attalla adds, "Despite what political opponents of Canadian online pharmacies are saying, we are open for business, have ample supply and our mail is getting through. You don't need to suffer through the coverage gaps, the Canadian option is better than ever."
ADV-Care Pharmacy (http://www.adv-care.com or http://www.PharmacyOnTheNet.com) is licensed by the Ontario College of Pharmacists, and has been safely dispensing medications to Canadian & U.S. residents for 6 years. All Canadian medications are Health Canada approved and are dispensed by licensed pharmacists.
Media Contact:
Ramy Attalla
1-888-611-5582
http://www.PharmacyOnTheNet.com
# # #