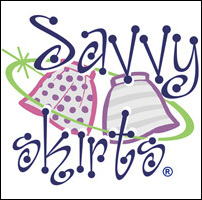 We offer a stylish gift service with customized gift baskets containing high-quality popular products seen in media and style magazines to celebrate the energetic and frivolous spirit of the 'Girl', which is most often lost in the multiple demanding roles busy women face daily
Half Moon Bay, CA (PRWEB) May 4, 2006
Need some retail therapy? Savvy Skirts®, launches a premiere gift service both for and about women. This innovative on-line boutique, http://www.savvyskirts.com, is a seriously fun shopping and gift-giving experience with a unique selection of gifts & custom gift baskets that celebrate women of all ages.
Customers can shop by Occasion, Emotion, Style, Color or Price when browsing the colorful selection of adorable handbags & totes with over 700 popular gift items to fill them with to create a "purse-o-nalized" Girl Basket® gift for Mother's Day, Graduation, New Mom, Birthday, Hostess, Bad Breakup, I Hate Diets, Girls Night Out, just to name a few. These unique Girl Basket® gifts are designed to celebrate the special interests, emotions, occasions or experiences in a woman's life. The gift recipient not only gets an adorable gift basket made especially for her, but she also gets to keep a cute little handbag or tote once all the gifts are gone. Want to send a quick gift at the last minute that is thoughtful, but don't want to spend a whole lot of money? Savvy Skirts also offers a 'Mini Skirt' gift set, which retails typically for under $50 and the customer can create a cute collection of gifts for any occasion that is as fun & flirty as they want to be - just like a mini skirt.
The website offers pre-made Mini Skirt and Girl Basket® gift sets, but the fun is really in the customer creating their own gift set and having a 'tote-ally' good experience while shopping for themselves or their female friends and family. Men are encouraged to also enjoy in the creativity, and Savvy Skirts provides a thoughtful way for them to send meaningful gifts to their wives, girlfriends, sisters, moms and other female family or friends while either overseas or simply just the convenience of avoiding a trip to the mall. Their products will definitely make you smile, possibly giggle and highlight the girl in you.
About Savvy Skirts, Inc.
Savvy Skirts, meaning Smart Women, was created in 2004 by two life-long girlfriends Sheri Olson and Shelly Clayborn. "We offer a stylish gift service with customized gift baskets containing high-quality popular products seen in media and style magazines to celebrate the energetic and frivolous spirit of the 'Girl', which is most often lost in the multiple demanding roles busy women face daily", by Shelly Clayborn, Vice President and Co-owner. Sheri and Shelly are also busy women who are passionate about their families and careers, so they understand that ease of use, as well as both selection and convenience are very important to their customers. "Our unique on-line boutique allows women to easily search, purchase and suggest gift products that women have seen and would recommend to their girlfriends. Gift items are easily customizable in our trademark product the Girl Basket® or Mini Skirt gift sets - making the gift giving experience remarkably special between girlfriends at any age", Sheri Olson, President and Co-owner. Both Sheri and Shelly are committed to making Savvy Skirts, Inc. 'Tote-ally HerTM Kind of Shopping Trip' and an experience you can share with all of your Girlfriends.
Contact:
Sheri Olson,
President, Savvy Skirts, Inc.
866-342-2811
###