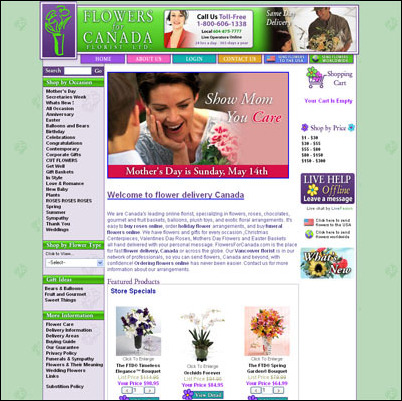 (PRWEB) May 3, 2006
Everyone has heard at least one nightmarish story about ordering flowers online. The flower arrangement never arrives. The funeral flower delivery arrives wilted and dead. The flowers for Mother's Day arrive finally around Father's Day. So how does one try and avoid these horrific situations? The answer is to find a florist that considers customer service their number one priority.
FlowersForCanada.com not only makes customer service their number one priority, but they have been recognized for this dedication. They are rated #27 for the best flower delivery in Canada and they place 200th of the hundreds of thousands of FTD florists worldwide.
Owner, Director, and Master Designer, Kellie Federici credits their passionate attention to the consumer experience for the rankings, "Customer service is huge for us—we go way out of the way. We're consumers too, so we understand that you want to be able to go online and order without any hassle or worrying if your floral arrangement will arrive on time, correctly arranged, and in tact."
Federici's Canadian flower delivery site uses many techniques to ensure this customer satisfaction. First of all, they have real florists as their sales operators that are available 24 hours a day, 7 days a week. A lot of the common complaints about buying flowers online concern the fact that other companies use generic sales representatives that are not knowledgeable in floral design. FlowersForCanada.com's sales representatives are actual florists and they will help guide the customer in picking the best Mother's Day flower arrangements or for any other holiday or time of year.
Secondly, FlowersForCanada.com has a policy of 100% satisfaction guaranteed. When ordering online for a Canadian flower delivery, this can be a great relief to the consumer. It reinforces the fact that FlowersForCanada.com considers their customers opinion to be their highest indicator of success. Federici highlights, "We've received hundreds and hundreds of letters from people who have been happy with the service they receive. Every now and then you get a customer who isn't happy, but we've turned those complaints into lifelong customers. We know that some people are unsure about ordering flowers online, and that is precisely why we are determined to make every single customer have a satisfying experience shopping online with FlowersForCanada.com. We are in this for the long term and not for the fast buck."
Federici has over 30 years experience as a florist in Vancouver and management in the floral industry. She has recently been joined by her business partner Jennifer Coleclough. Coleclough has experience as a principal in the Canadian school systems, but has recently endeavored to explore her creative side which creates a nice balance in the partnership.
Their website also offers gourmet baskets, birthday cakes, balloons, chocolates and gift baskets. There is also a live chat feature to help guide the customer through the selection process. Ordering flowers online does not have to be a painful experience and FlowersForCanada.com is determined to make that a reality to its customers.
To schedule your Canadian flower delivery online, please visit FlowersForCanada.com.
About FlowersForCanada.com:
FlowersForCanada.com offers daily delivery of floral arrangements and other gift items to all of Canada. Owner Kellie Federici has won many awards for her designs and has over 30 years experience in the floral industry. Her business partner, Jennifer Coleclough, is University educated and has recently joined the company to enhance her artistic experience.
###