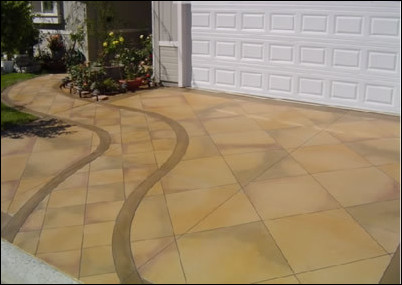 Yucaipa, CA (PRWEB) May 5, 2006 –-
There's no doubt that when the summer season comes, Southern California is the place to relax and entertain in the comfort of your own home. Homeowners in Southern California have already jump-started their home renovation projects, and this year they are focusing on concrete.
The popularity of building with concrete can be attributed to its versatility, durability, resistance to harsh climates, inexpensiveness and the fact that it is relatively easy to maintain when compared to expensive stone, marble, granite, tile and others. With the simple addition of a stamp pattern, concrete can be patterned to resemble popular stone, brick, and flagstone or slate patterns. Custom colors and stains can also be applied to add character and complement other interior or exterior design elements of the home.
Concrete floors, driveways, patios and pool decks have become the focal points of home decorating, and no longer have to consist of boring, gray concrete slabs. The design possibilities with concrete are endless, and in a trend-savvy area like Southern California, it's no wonder that concrete is being transformed from ordinary to extraordinary.
The Concrete Network, the largest and most comprehensive source for concrete information, offers homeowners and builders a haven to find a wealth of information on decorative concrete applications, expansive photo galleries offering design ideas, a Find-A-Contractor feature that allows buyers to locate local contractors, and much more.
Established in 1999, The Concrete Network's purpose is to educate consumers, builders, and contractors on popular decorative techniques and applications including stamped concrete, stained concrete floors, concrete countertops, polished concrete, and much more. Over 750,000 visitors research The Concrete Network Web site each month.
The site excels at connecting buyers with local contractors in their area through its Find-A-Contractor service. The service provides visitors with a list of decorative concrete contractors throughout the U.S. and Canada, and is fully searchable by 22 types of decorative concrete work and 198 metropolitan areas throughout North America.
Photos courtesy of Concrete Art in Newport Beach, CA; Western Floor Decorating, Inc. in Escondido, CA; and New Images Concrete Construction in El Cajon, CA.
###