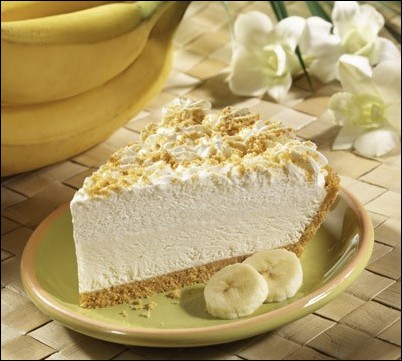 The honors for our new products, Butterfinger Pie and Banana Crème Pie are especially meaningful
Celebration, FL (PRWEB) May 4, 2006
Edwards gourmet desserts won four blue ribbons at the American Pie Council's (APC) National Pie Championship in Celebration, Florida. Two of the awards recognized Edwards' newest desserts --- Banana Crème Pie and Butterfinger Pie. Also honored were Edwards Key Lime Slices, sold in twin packs, and the ever-popular Turtle Pie. The annual industry competition is held in conjunction with the APC's Great American Pie Festival. The APC is the only trade association dedicated to preserving America's pie heritage and promoting America's love of pies, year-round.
"The honors for our new products, Butterfinger Pie and Banana Crème Pie are especially meaningful," said Edwards® Brand Manager Melinda Pritchett following the awards ceremony. The Butterfinger Pie is a crème pie filling with BUTTERFINGER candy pieces in a delicious cookie crust and the Banana Crème is classic favorite made with real bananas in a vanilla cookie crust.
During the Festival, Edwards partnered with the American Pie Council to support state pie legislation in Florida with a "Please Pass the Pie" information campaign. In addition, Festival guests signed up for Edwards' second annual "Invent Your Own Indulgence" recipe contest which kicked off April 1st nationwide. The entry deadline is July 14, 2006.
The Edwards Baking Company was founded in 1950 by namesake Tom Edwards as a small retail bakeshop in Atlanta, Georgia. Now based in Suwanee, Georgia, Edwards gourmet desserts are found in grocer's freezers nationwide. Edwards desserts are sold by Schwan's Bakery, Inc. as whole pies and in two-slice packages. Schwan's won 11 blue ribbons at the 2006 national pie competition. Edwards varieties include the No.1 selling Key Lime, Lemon Meringue, Georgia Pecan, Turtle and OREO®, among others.
For more information, contact:
Deb McGhee Speights
404-975-4881
###