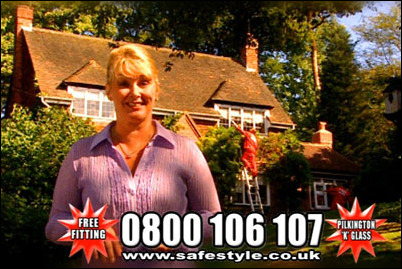 I'm a celebrity get me out of here
(PRWEB) May 4, 2006
Former Eurovision winner and TV personality Cheryl Baker has been chosen to head up a new multi million pound national television advertising campaign for Safestyle UK, the country's largest independent replacement window and door manufacturer.
One of the UK's most popular television presenters and 25 years since she and the other members of Bucks Fizz shot to fame with 'Making Your Mind Up', Cheryl is the latest in a string of high profile celebrities to host the hugely successful Safestyle television advertising campaigns.
Cheryl will continue in the award-winning steps of other stars of stage and screen such as "I'm a celebrity get me out of here" personalities Cannon and Ball and former Coronation Street favourite Ken Morley, as the face to sell Safestyle UK's market leading replacement windows and doors.
Style Group UK Chief Executive, John Ross explained: "Our advertising has produced excellent results for the last twelve years and has been most instrumental in our phenomenal growth but like all successful campaigns you cannot stand still.
"We believe this new campaign and image will quickly capture the imagination of our customers both old and new and strengthen our continued development in a very competitive marketplace. During the past 15 years Cheryl has consolidated her career in television hosting a huge variety of networked series and her warm relaxed approach and vibrant personality make her a natural choice for us as she is a favourite with audiences of all ages."
The company has decided to implement a change in direction with a new but instantly recognised image of the "girl next door" following a recent and extensive evaluation of its marketing strategy. The campaign will also continue to link in with new market research which will highlight the number and quality of all sales related responses relating to each individual advertising slot.
Born in Bethnal Green, East London, Cheryl first found fame with pop sensations Bucks Fizz. After winning the Eurovision Song Contest, the band went on to achieve 20 top-selling singles, including three number one hits.
Over the past years her popularity as a solo performer has gone from strength to strength, having presented numerous consumer, current events and children's television series, including "Record Breakers", "Eggs 'n' Baker", "The Funny Side", "Saturday Picture Show" and more recently travelling the world presenting Holidaymaker for The Travel Channel.
About Style Group UK:
The Style Group UK is the largest independent manufacturer, supplier and retailer of uPVC windows and doors in the United Kingdom. Since its inception in 1992 the Group has continued to expand and now has 40 branches across the country from the South West to the North East serviced by a large in-house transport fleet.
It ranks as one of Yorkshire's fastest growing companies according to a recent Business Insider Top 500 companies survey published in July 2005, rising from 129th to 88th.
The Group incorporates three specialist subsidiaries catering for manufacture, trade supply and retail as follows:-
Windowstyle UK is the manufacturing arm and its state-of-the-art factory in Wombwell, near Barnsley, South Yorkshire produces up to 10,000 quality assured frames per week. It is also the area's largest single employer.
Tradestyle UK (http://www.tradestyle.biz) was established in 2002 and supplies exclusively to non-fabricating retailers and installers. It has its own manufacturing facility and has seen demand for its products at a genuine trade price soar way beyond expectations.
Safestyle UK (http://www.safestyle-windows.co.uk) is the best known name within the Group. It is synonymous with quality and affordability and installs domestic window and door frames valuing in excess of £2 million every week. It is renowned for its memorable, celebrity-fronted television and radio advertising campaigns featuring its value-for-money offers.
For further information please contact:
Ashley Metcalfe
CHS Ltd
+44-1924-256050
###