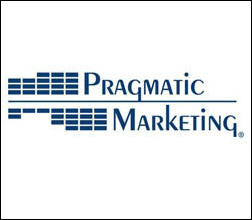 When I became a technology company VP in 1990, I knew that markets were dominated by the companies that could hire, train and retain the best product marketing managers. It was obvious that tactical
Scottsdale, AZ (PRWEB) May 9, 2006
Thousands of product marketers and marketing communications professionals in hundreds of companies have become more effective for their companies and more valuable as employees by learning at the intensive and enjoyable two-day Effective Marketing Programs seminar taught by the technology industry product marketing experts at Pragmatic Marketing, Inc.
The Effective Marketing Programs seminar - http://www.pragmaticmarketing.com/emp - shows product marketers and marketing communications professionals how to think strategically as they plan, execute and measure product marketing programs. Through the process, marketing programs become perfectly aligned with their budgets, market segments and sales processes.
"Effective Marketing Programs generated immediate benefits for my organization," says Robert Thomas, Division Vice President of Marketing at ADP, Time and Labor Management.
Seminar developer and instructor Adele Revella says: "When I became a technology company VP in 1990, I knew that markets were dominated by the companies that could hire, train and retain the best product marketing managers. It was obvious that tactical "list" marketing would not get us where we needed to be. The Effective Marketing Program was the answer -- a standard set of marketing tools, ideas and frameworks that people with any level of experience or background could use to be strategic about everything from a single campaign to a product launch or sales enablement program."
About Pragmatic Marketing®
The industry standard for technology product management and marketing education, Pragmatic Marketing teaches a practical, market-driven approach to creating and delivering technology products, based on the Pragmatic Marketing Framework. Founded in 1993, Pragmatic Marketing has trained over 30,000 product managers and marketers with more than 90% of alumni rating the seminars as essential or very useful to their careers. Visit http://www.PragmaticMarketing.com to learn more.
###