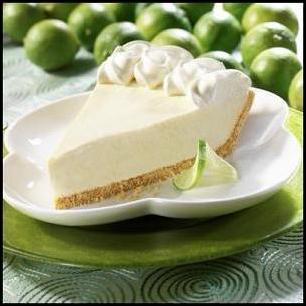 We are thrilled with the response to the campaign and we're prepared to help whereever pie-lovers want a state pie
CELEBRATION, FL (PRWEB) May 5, 2006
Edwards® gourmet desserts and the American Pie Council (APC), today applauded the State of Florida for becoming the second in the nation to designate an official state pie.
Nearing the end of its 2006 legislative session, passage of the so-called state pie bill is historic because only one state, Vermont, has an official state pie. The legislation names Key Lime Pie, an official symbol of Florida since 1994, as the official state pie effective July 1, 2006.
The legislation must now be signed by the Governor.
Late last month, the APC and Edwards partnered to host a "Please Pass the Pie" information campaign during the APC's annual Great American Pie Festival in Celebration, Florida. The campaign included an internet podcast, "Pie Day" at the Capitol, and mock ballot boxes for the public to vote in support of a state pie. Edwards and the APC have been non-partisan with respect to state pie selection. Florida voters, however, overwhelmingly favored Key Lime.
The APC is the only association dedicated to preserving America's pie heritage and promoting America's love of pies. Edwards produces the #1 selling frozen Key Lime Pie in America.
During the Festival's opening ceremonies Edwards® Brand Manager and APC Board member Melinda Pritchett and American Pie Council (APC) Executive Director Linda Hoskins presented the American Pie Heritage Award to Florida Senator Larcenia J. Bullard (D-Miami) for her leadership toward establishing an official state pie. Called the "Key Lime Ambassador in the Senate" Ms. Bullard co-sponsored successful state pie legislation. Today, legislation also passed the Florida House of Representatives.
Campaign organizers say Florida's bid has sparked interest in the "Please Pass the Pie" initiative among pie-lovers in several states and Canada.
"We are thrilled with the response to the campaign and we're prepared to help whereever pie-lovers want a state pie," said Pritchett, "We salute Senator Bullard, her colleagues in the Legislature, and the citizens of Florida on this very historic day. Floridians have inspired pie-lovers in capitols across America."
The Edwards Baking Company was founded in 1950 by namesake Tom Edwards as a small retail bakeshop in Atlanta, Georgia. Now based in Suwanee, Georgia, Edwards is owned by Schwan's Bakery, Inc.
Edwards desserts are found in grocer's freezers nationwide and include varieties like Chocolate Crème made with HERSHEY'®S, Georgia Pecan, Turtle and OREO®, among others. Edwards recently announced the start of its popular "Invent Your Own Indulgence" recipe contest. Visit http://www.edwardsbaking.com or for information on "Please Pass the Pie" call 404-975-4881 or email info@ PassThePie.com.
###