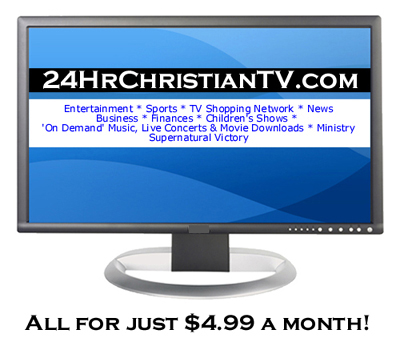 Montreal, QC (PRWEB) May 12, 2006
Founder, CEO & President Network Operations Spider Ledesma announced from Montreal, QC the creation of a new Christian broadband television network and media company named, 24HrChristianTV.com (http://www.24HrChristianTV.com).
Monthly membership to the all Christian broadband TV network will be $4.99 a month.
- Completely New & Alternative Programming:
Ledesma stated, "Our goals as a broadband network are three-fold. One is - via IPTV to offer a completely new set of quality and alternative Christian programming, formats and choices to viewers while providing new and advanced (interactive) e-commerce and entertainment options for Christian consumers and cable providers worldwide. From our interactive Christian TV shopping network to college basketball and pro sports to new shows and afternoon bible study ministries for youth to our Sunday Night Movie of the Week to having 'on demand' music, concerts and movie downloads available 24/7 to a myriad of anointed ministries. In short – providing a wide range of quality programming choices strategically marketed to users according to preferences entered into their profiles."
- Creating Largest Interactive Christian E-commerce & Entertainment Marketplace Online:
He continued, "…and two – we perceived an obvious market need and opportunity to connect Christian businesses, individuals and retailers to global consumers in real-time with a new and visionary interactive e-commerce model. We believe that it is in the absolute best interest of the Christian market and retailer to consolidate the largest demographic group in the world with a new and user friendly 'on demand' interactive entertainment and cross-promotional business model. Market research clearly shows there is an increasing number of Christians surfing the internet daily for Christian entertainment, retail products and new media ministries of all kinds. We are taking the lead in executing the most comprehensive e-marketplace online and offering new and 'on demand' interactive media, programming, entertainment and e-commerce options for all demographic groups within the global Christian community."
- Launching Global TV Ministries for $860 a month (Includes Network Time 7 Days a Week!):
"And three - we believe God has appointed this media ministry to build up and enlarge the reach and impact of many anointed Christian ministries around the world including but not limited to alternative, business, youth, new and/or 'home-made-ministries-shot-from-the-family-room' which would not normally be given the opportunity to air their ministry message and/or products to millions of Christian consumers due to their unconventional format or lack of significant financing to purchase considerably more expensive airtime on other traditional networks. We are an unconventional network and we think and see way-outside-the-box through our eyes of faith of how impacting our media ministry will be for the Lord as the most sensible financial choice and alternative for many Christian ministries and businesses of all kinds seeking greater global television exposure and ROI for their marketing dollars. We welcome any and all ministries or Christian businesses to contact us to discuss their media needs."
Talking about new programming hi-lites the CEO stated, "We feel one of the absolute viewer favorites will be our interactive BUYorSELLatChristianity.com TV shopping network. Ultimately we will be airing thousands of Christian products, whether they are hand made or manufactured, from all parts of the world. Our shopping network's unique auction and 'Buy It Now' online interactive business model allows any product for sale at BUYorSELLatChristianity.com to be promoted to millions of consumers during the course of our TV shopping network show – and the viewer can choose when they want to watch our TV shopping network whether it be during regularly scheduled programming or from our 'On Demand' menu anytime."
Concerning programming Ledesma stated the network is looking for all kinds of new Christian network shows which includes but is not limited to:
Christian Movies, Short Films, Features & Documentaries*
Christian Music, Concerts & Music Videos*
Drama Sitcoms
Comedy Sitcoms
Theatre
Children's Shows
Youth Shows
Women's Programming
Men's Programming
Reality Programming
Educational Shows
College Ministry Show
Financial Shows
Fashion Shows
Entertainment Shows
Cooking/Food Shows
Sports Shows
Book Review Show
Movie Review Show
Music Video Show
News Shows
Political Shows
Morning Shows
Talk Shows (Both Daytime and Late Night)
All Forms of Local, Domestic & International Ministry (in any language)
- "On Demand' Music & Movie Downloads for 99CentChristianSongs.com and 99CentChristianMovies.com
Anyone who would like to bring their innovative, fresh and new Christian programming to broadband network TV is encouraged to review 24HrChristianTV.com programming rates and then submit their ideas for new programming shows along with programming rate package desired at http://www.24HrChristianTV.com. All demo tapes should be sent to our corporate office c/o 'New Programming'."
Ledesma stated, "Even though we are excited to be offering a full array of entertainment choices as a Christian TV network and global media company, are #1 goal as an organization is to - lift people up by encouraging them through the goodness of God. This will be reflected in the type of entertainment choices, network commercials and ministries broadcasted to our viewers. We want all people to know that God is on their side and that they are meant to live a life of Victory. Our network message will focus on the goodness and love of God and His tender mercies in our lives. We look forward to sharing the message of God's hope, redeeming love and Victory found in Jesus Christ with millions of our viewers daily. We believe God is a God of new beginnings and the God of second chances. It is an honor and a priviledge and we embrace this appointment. We thank everyone for their continued prayerful support and encouragement on our behalf."
24HrChristianTV.com is hoping to launch its inaugural network lineup by December 1, 2006 or January 1, 2007.
Make contact with the corporate office here by telephone, Skype or email at: http://www.24HrChristianTV.com
###