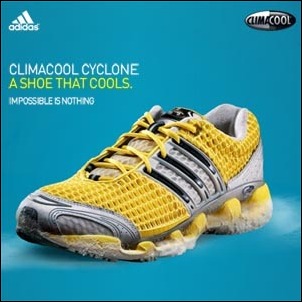 London, UK (PRWEB) May 7, 2006
adidas technology advanced ClimaCool Cyclone shoe cools your feet as you run.
The ClimaCool design footwear captures the slow moving air surrounding a shoe during exercise, and conducts it through aerodynamically optimized air channels to cool the foot. adidas tested the movement of air around a runner's shoe and positioned ventilation ducts in locations scientifically proven to maximize air velocity to the foot.
Along with ducts positioned on the sides and outsole of the shoe, every ClimaCool shoe is built with a fully ventilated mesh upper and breathable sock liner to ensure maximum airflow penetrating the shoe and cooling the foot from every side. The 360 degree ventilation system transports heat and sweat away from the foot and out of the shoe as you exercise, providing a 40% increase in cooling over a conventional running shoe which, in testing, comes surprisingly close to wearing no shoes at all.
adidas have developed five 'cool' vodcasts; boxer, fish, ice, toothache and twins.
The video clips show the shoe being used to cool various things, such as a beer can, fresh fish and a boxer's jaw after a fight. The video clips represent the advanced cooling technology of the shoe.
The ClimaCool vodcasts can be downloaded directly from the adidas website at http://www.adidas.com/climacool.
Elemental Communications
Rachel Hawkes
Account Director, Elemental Communications
Telephone: +44 (0) 870 745 9292
Mobile: +44 (0) 776 665 1244
Fax: +44 (0) 870 745 9293
Website: http://www.elementalcomms.co.uk
Address: Second Floor, 145 -157 St John Street, London, EC1V 4PY, England, UK
###