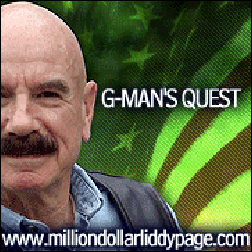 one of the most sought after speakers in the nation
Washington DC (PRWEB) May 9, 2006
G. Gordon Liddy, legendary Watergate figure and nationally syndicated radio host has launched the MILLION DOLLAR LIDDY PAGE to introduce people to businesses, organizations, groups, and bloggers who secure space on his site.
Officially launched on 5/8/06, http://www.MILLIONDOLLARLIDDYPAGE.com will remain live on the Internet for a minimum of one year. Specifically designed for hundreds of advertisers to share space in one place. One million pixels are being sold at one dollar [$1.00] per pixel with a minimum purchase amount of one hundred pixels [10X10]. Once an advertiser purchases their pixel blocks, their image, ad or logo is then posted on the website with a direct link to the advertiser's homepage. The only restriction is that no obscene or offensive images or links will be permitted.
Several promotional efforts are being made to encourage advertiser participation and to garner and maintain unique visitor traffic. In addition to Liddy personally promoting the MILLION DOLLAR LIDDY PAGE during his radio show every day until the last pixel banner is sold; beginning July 2006, the site will kick off a monthly sweepstakes promotion with advertisers. The page will also be linked via banner from http://www.LiddyShow.com to give further exposure to the businesses and organizations that have purchased space. After the final pixel banner is bought, the coveted top portion of the page, which has been reserved for premium advertising, will be auctioned off on Auction Services.com, Inc. The highest bidder[s] wins the premium placement, a header banner, a link announcement and on air promotion by G. Gordon Liddy during his nationally syndicated radio program, The G. Gordon Liddy Show. Once the auction winner[s] has been determined, Liddy will personally deliver the funds raised from the auction to The Salvation Army Headquarters in Alexandria, Virginia. Liddy will continue to mention the website once every week for an entire year.
This impressive idea of internet advertising is all a buzz in the media world, which drives even more traffic to Million Dollar Liddy Page and, in turn, generates more potential customers for its advertisers. The G-Man guarantees his advertisers a piece of virtual real estate advertising until June 2007. Pixel advertising is one of the hottest selling advertisement opportunities online.
If you're interested in posting a banner on http://www.MILLIONDOLLARLIDDYPAGE.com be sure to get in early. This site will sell out rapidly and spaces are available on a first come first served basis! Early participants who have purchased pixels include AuctionServices.com, Inc., Natures Youth Nutritional Supplements, ICG Link Web Design & Hosting, ClassicalValues.com, BigBinoculars.com, North Texas Biker Shop, Arcadia Christian.org, PlasticPolish.com, and Cumberland Iron Works.
The MILLION DOLLAR LIDDY PAGE is easy to use. Simply place the mouse over the squares, click, and drag over the desired number of squares. The cost is calculated and shown on the screen. Fill out a form on the next page, attach a banner image, pay using the PayPal system and the transaction is complete. The Advertiser's Pixel List page will display the link and the description submitted as the user's cursor floats atop the pixel banner. Once the user clicks onto a link, they'll be transferred to the targeted website.
To get in on this exciting venture visit http://www.MILLIONDOLLARLIDDYPAGE.com NOW!
Now in its 13th year, The G. Gordon Liddy Show is a nationally syndicated radio program that is broadcast in more than 150 markets and is heard on Sirius and XM Satellite Radio, and around the world via Internet streaming.
In addition to his latest publication, FIGHT BACK, Tackling Terrorism Liddy Style Co-authored with Retired Navy SEAL son, Commander James G. Liddy, Mr. Liddy is the author of five NY Times best-sellers and numerous magazine articles. He is a motion picture and television actor, and recognized as "one of the most sought after speakers in the nation" according to The Wall Street Journal.
For more information on G. Gordon Liddy contact:
Diana Kalandros 410-598-4284
Published by http://www.ASMarketingCenter.com a division of http://www.AuctionServices.com and the http://www.NationalAuctionList.com
###