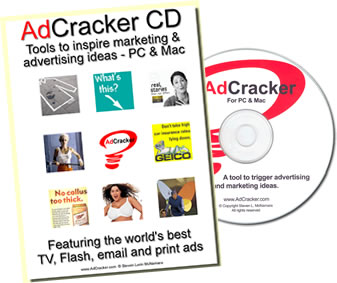 AdCracker CD gives advertising and marketing folks fresh ways to brainstorm ideas, based on current techniques and example ads
San Clemente, CA (PRWEB) May 9, 2006
A duck shouts, "AFLAC!" And that simple advertising concept produces millions of dollars in sales, consumer awareness, and brand equity.
But breakthrough ad ideas are not easy to produce as even the most talented copywriters and art directors struggle through the creative process.
Enter AdCracker CD V6 - a fast, reliable and affordable way to produce million dollar advertising concepts.
The CD features several concept triggers, including The IdeaMachine, which takes users through over 50 creative challenges, exploring hundreds of example print ads, TV commercials and Web ads, both brand and direct response.
"AdCracker CD gives advertising and marketing folks fresh ways to brainstorm ideas, based on current techniques and example ads," said Steve McNamara, AdCracker's Creative Director. McNamara, who wrote much of AdCracker's content, has worked as a Creative Director at J. Walter Thompson, Rapp Collins, and Capital One.
"It's when you're under deadline pressure, and need to create a big brand or direct response idea, that AdCracker's concept trigger tools really help," said McNamara.
The AdCracker CD also includes "How To" articles, training workshops, and forms to develop brand personalities, creative briefs or product-positioning slogans.
"What I like about AdCracker CD is that it works. I use it to train entry-level staffers, and I've learned some new tricks myself," says Arturo Monroy, an Associate Creative Director in Los Angeles.
According to Daniel Leduc, Creative Officer at Duck and Partners, "I've used AdCracker CD as a quick way to generate effective headlines, copy and visuals - concepts that build brands and deliver sales. You don't need a 'creative' job title to use it."
AdCracker CD works on any desktop PC or Mac. Price: $149 - $99 for two or more. For more information or to order AdCracker CD V6, visit http://www.AdCracker.com
About AdCracker:
AdCracker is the first interactive tool designed specifically to trigger advertising and marketing concepts. AdCracker.com was launched in 1999, with Internet sales of AdCracker CD beginning in 2001. AdCracker CD is used in over 90 countries by ad agencies, Fortune 500 marcom departments, schools and small businesses.
MEDIA CONTACT: Steve McNamara, Creative Director. 888-559-6535 or 760 815 4063. pa06 at adcracker dot com
###