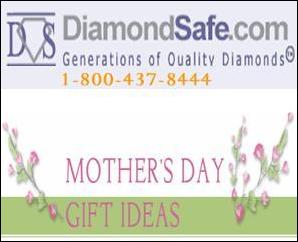 New York, NY (PRWEB) May 8, 2006
Mother's Day is the second highest gift-giving holiday (Christmas is the highest). Let your mom know just how much you love her by surprising her with stunning sterling silver jewelry.
Did you know that Mother's Day is widely reported as the peak day of the year for long distance telephone calls and that Mother's Day is the busiest day of the year for many restaurants?
Mothers Day is the perfect time to pamper your most special loved one. History tells its own romantic story of the time honoured tradition of a special Mothers Day beset with gifts, romance and luxury.
In years gone by traditional gifts of the heart such as home made greeting cards and hand picked flowers from the garden have given way to bunches of flowers and boxes of chocolates. In today's fast paced world, the internet has enabled the ease and choice of so much more. DiamondSafe.com have this year carefully selected a stunning range of Mothers Day Gifts ranging from pendants and charms in silver and gold all the way through to the pure luxury of diamonds.
Give the special lady in your life a Mothers Day gift to show your appreciation and dedication to her. A Gift she can hold close to her heart, a diamond pendant.
In many ancient cultures people celebrated holidays honoring motherhood personified as a goddess. For example the Ancient Greeks celebrated a holiday in honor of Rhea, the mother of the gods, the ancient Romans celebrated a holiday in honor of Cybele, a mother goddess, in Europe the goddess Brigid is honored with a spring Mother's Day, connected with the first milk of the ewes.
Whilst the first milk of the ewes could be deemed romantic (!), nowadays it's not just sons and daughters but also husbands and friends that get involved in the day of mother pampering.
Modern Mothers day actually stems from a little known American lady called Anna Jarvis. She was the power behind the official establishment of Mother's Day. Anna swore at her mother's gravesite in 1905 to dedicate her life to her mother's social work projects, and aimed to establish a Mother's Day to honour all mothers, living and dead
Unfortunately, or ironically, Anna Jarvis never had children of her own. She died in 1948, blind and penniless, and was buried next to her mother in a cemetery in the Philadelphia area.
However, that's not something for us to worry about in the year 2006. For in today we have the power of the phone and email to communicate and the power of the internet to receive 5% discounts for online purchases.
DiamondSafe.com offers a complete range of Sterling Silver Jewelry and Elegant Diamond Jewelry. For every taste, for every budget and for every occasion.
Not just that, but on top of the special 5% Mothers Day Discount, there also a 30 day money back if mom doesn't like your choice of Jewel.
Visit DiamondSafe for information and offers
Clifton Flack
###