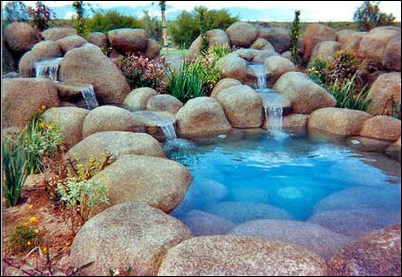 Yucaipa, CA (PRWEB) May 10, 2006
Rock and stone have long been valued as natural, distinctive landscaping elements. Now artificial rocks made of concrete or other materials are providing a dramatic yet economical way to enhance water features, landscapes, buildings and more. Homeowners, landscape and swimming pool designers, and contractors are turning to faux rocks for water feature construction because of their one-of-a-kind appeal and convenient installation process.
One can imagine the equipment, effort, and expense that would be required to haul large boulders weighing at least a ton each into a backyard and then to stack them around an in-ground pool or pond water feature. Not only can artificial rocks be molded, textured, and colored to exactly replicate the look and feel of real rock formations, they also can be built onsite, eliminating the inconvenience and expense of hauling in material to build a water feature.
Faux rock can be made from a variety of materials including fiberglass, synthetic materials, rubber, and plaster. The most common are made from polymer-modified or glass-fiber-reinforced concrete because the concrete can easily be sculpted or molded. Concrete mixtures can produce rocks that are extremely strong and lightweight. In some cases, artificial rocks can be more durable than the natural stones they imitate.
Texturing and coloring are the keys to producing natural-looking artificial rock. Once the right texture has been achieved, contractors replicate the earth tones of weathered stone by using a variety of coloring techniques. Some contractors integrally color the concrete, while others prefer to use acid stains.
More information on the benefits, uses, design techniques and installation options for faux rocks can be found on The Concrete Network, the largest and most comprehensive source for concrete information. Samples of these beautiful creations can be seen on The Concrete Network's water feature photo gallery.
Established in 1999, The Concrete Network's purpose is to educate consumers, builders, and contractors on popular decorative techniques and applications including stamped concrete, stained concrete floors, concrete counter tops, polished concrete, and much more. Over 750,000 visitors research The Concrete Network Web site each month.
The site excels at connecting buyers with local contractors in their area through its Find-A-Contractor service. The service provides visitors with a list of decorative concrete contractors throughout the U.S. and Canada, and is fully searchable by 22 types of decorative concrete work and 198 metropolitan areas throughout North America.
Photos courtesy of JPJ Technologies and Boulder Crete Inc.
###