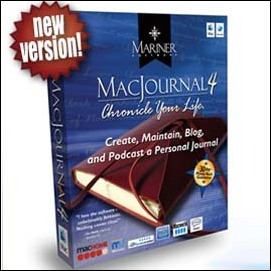 Minneapolis, MN (PRWEB) May 12, 2006
Mariner Software, developers and publishers of professional and personal software for the writing and creativity markets, recently unveiled the release of MacJournal 4, its popular Mac journaling and Mac blog software application for Mac OS X. Version 4 introduces a completely re-engineered blogging architecture, audio recording and podcasting functionality, several feature additions, as well as many bug fixes. MacJournal 4 is a Universal Mac application that is made to run on both PowerPC and Intel based Mac computers.
Mariner's Mac journaling software, MacJournal 4, is now available on the Mariner web site at http://www.marinersoftware.com/sitepage.php?page=85.
A partial list of new features in MacJournal 4 includes:
Easily publish blogs to any of the major blogging sites or a .mac account.
Podcast or record audio as an entry.
MacJournal Inspector for manipulating attributes of entries and journals.
Per-item attribute customization with the following:
background color
label
sorting
entry template
editable
blog server
Browser-like tabs for quickly switching between entries.
Improved Full Screen mode for distraction-free writing.
Live word count field.
Links, smileys, and words are recognized on the fly.
AppleScript support.
Intuitive searching functionality.
Improved keywords configuration.
100% accessible for sight-impaired users.
Universal and multi-language supported.
Many bug fixes.
"MacJournal 4 is our most significant release to date. Every single component from journaling to blogging features has been improved in one way or another," said Michael Wray, President of Mariner Software. "We are all about the user experience here at Mariner. MacJournal has always been an addictive product to use. We think MacJournal 4 will be even more."
The software is immediately available for download from the Mariner Software web site at the following page: http://www.marinersoftware.com/download.php
Availability
MacJournal 4 for journaling, blogging and podcasting is now available for download and requires Mac OS 10.3 or higher. Pricing is set at $34.95 for the download version. Upgrades are available for version 3.0 users and higher for $14.95 on the Mariner web site. An upgrade path is also available for previous users of version 2.6 or earlier by contacting Mariner Software. The shipping version will initially be offered in several languages. More languages will be added in the near future.
MacJournal can be purchased online at http://www.marinersoftware.com or through various retailers such as: The Apple Store, CompUSA, or Fry's Electronics.
About Mariner Software
Mariner Software, Inc., developers of the industry-recognized products, Mariner Write, Mariner Calc, and MacJournal has established itself as one of the most diverse leaders in business, consumer, and educational productivity software for the Macintosh. With customers worldwide, Mariner Software is committed to delivering the highest quality software, with an emphasis on total customer satisfaction. For more information, visit the Mariner Software web site at http://www.marinersoftware.com.
Mariner Write and Mariner are registered trademarks of Mariner Software, Inc. Desktop Poet and Montage are trademark pending registrations. All other trademarks are the property of their respective owners.
For more information contact:
Logan Ryan
Director of Public Relations
Mariner Software, Inc.
###