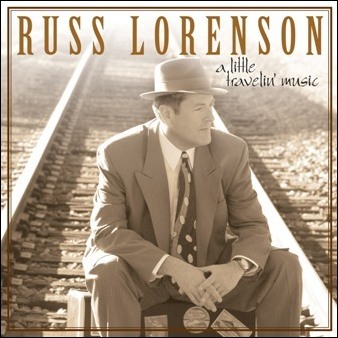 Outstanding...I think he could almost fly off the stage!
San Francisco, CA (PRWEB) May 9, 2006
RL Productions and LML Music announce the release of jazz vocalist Russ Lorenson's debut CD, "A Little Travelin' Music," beginning today, May 9, 2006.
The CD features songs from Lorenson's acclaimed jazz/cabaret show of the same name, and includes duets with special guests Klea Blackhurst and fellow LML recording artist Shawn Ryan. Also featured on the CD are San Francisco Bay Area jazz musicians Kelly Park on piano, Reid Whatley on bass, Jack Dorsey on drums, and Tony Malfatti on sax and clarinet.
"Russ is exactly the kind of artist that exemplifies what our label is all about," says Lee Lessack, founder and CEO of LML Music. "His sound and approach are the very essence of the Great American Songbook. We're excited to have Russ join the lineup of other great artists at LML."
Lorenson will embark on a 15-city tour beginning in August 2006, promoting the CD and bringing his shows to audiences throughout the US. Scheduled cities include San Francisco, Los Angeles, San Diego, Washington DC, New York, Philadelphia, and Boston.
About the CD
Featuring San Francisco Bay Area jazz musicians Kelly Park on piano, Reid Whatley on bass, Jack Dorsey on drums, and Tony Malfatti on sax and clarinet, the CD is a collection of jazz standards and Broadway gems that takes listeners on a musical journey through the Great American Songbook. Special guest artists include New York cabaret star Klea Blackhurst, and fellow LML Music recording artist Shawn Ryan. Songs by composers such as Cole Porter, the Gershwins, Johnny Mercer and Cy Coleman include "When In Rome," "A Foggy Day (In London Town)," "A Nightingale Sang in Berkeley Square," "I Love Paris," "Moonlight In Vermont," "(On A) Slow Boat To China," and "Come Fly With Me."
Beginning May 9, 2006, the CD will be available through all major music retailers, including Tower Records, Virgin Megastores, Barnes & Noble, Borders Books & Music, Amazon.com, and CDUniverse.com, as well as through the artist's website at http://www.russlorenson.com and through the LML Music website at http://www.lmlmusic.com.
About Russ Lorenson
Since his breakout club debut, Lorenson has quickly established a reputation as one of the San Francisco Bay Area's leading interpreters of jazz standards. As a singer, he is equally at home whether entertaining a concert hall audience or performing in the more intimate cabaret setting. With comparisons to Tony Bennett, Mel Tormé, and Chet Baker, Lorenson has a voice one savors and remembers.
In recognition of his solid and sophisticated musical vocabulary, Talkin'Broadway.com called Russ "an elegant performer who has faultless musical taste and vocal phrasing. He has a voice that is reminiscent of some of the great singers like Tony Bennett, Chet Baker and a little of Mel Tormé." The Los Angeles Times said that he brings "a supple voice and strong sense of characterization to all his songs." The San Diego Union-Tribune said that his "relaxed, easy deliveries...seem natural and heartfelt..." BeyondChron.com said, "Not only does Lorenson have the soul of the greats – Frank Sinatra, Tony Bennett and other dream crooners of the 50's, 60's and 70's – he has the Kelly Park band with him to really bring those decades to life." The Coronado Journal simply called him "…irresistible…"
A more theatrical singer than most of his peers on the jazz circuit, Lorenson's polished pipes move effortlessly through various musical styles. He does not shy away from theatricality but always knows when to infuse jazz sensibilities into an old Broadway chestnut, bringing new life to a song audiences think they know so well.
Lorenson began his professional career in San Diego, where he appeared with Starlight Musical Theatre, Lyric Opera San Diego, Diversionary Theatre, and toured with the National Theatre for Children. For five years, he was Associate Conductor of the award-winning California Youth Chorale. Since moving to San Francisco in 1997, Lorenson has appeared in several productions at 42nd Street Moon, including their hit production of Cole Porter's "Red Hot & Blue!" starring Klea Blackhurst. Of his performance, Talkin'Broadway.com's Richard Connema said, "Outstanding...I think he could almost fly off the stage!" This summer, he will also make his debut with the award-winning Willows Theatre Company in Concord, CA, appearing in their revival of "1776."
As a nightclub and cabaret artist, Lorenson has performed in San Diego at Bourbon Street, The Escape, WD's, and The Caliph. In the San Francisco Bay Area, he has appeared at Martuni's, the Café Majestic, Kelly's of Alameda and The Empire Plush Room. Lorenson recently made his New York cabaret debut at The Hideaway Room @ Helen's.
A singer and actor since childhood, Lorenson has also donated his time as a performer at benefit performances for various San Francisco Bay Area youth organizations including the Young Actor's Theatre Camp (La Honda, CA), Adolescent Counseling Services (Palo Alto, CA), Project Outlet (Mountain View, CA) and San Francisco's School of the Arts.
For more information, visit the artist's website at http://www.russlorenson.com.
About LML Music
LML Music is an independent label dedicated to distributing the finest in Cabaret, Jazz and Broadway vocals. All of the artists on LML have produced their own recordings; some independently and others with the incredible support of their friends and fans. At LML, you will discover some of the most incredible and heartfelt voices you shall ever experience.
Founded in 1995 by award-winning recording artist Lee Lessack, LML now distributes for over 65 vocalists in the US & Canada. They have also recently signed distribution deals in Australia, Ireland and the United Kingdom. In addition they have expanded their catalogue to include some of the finest LIVE concert recordings produced by the Actors' Fund of America and the S.T.A.G.E. organization. In 2004 LML also signed distribution deals with two other boutique labels, Midder Music and Ducy Lee.
For more information, visit http://www.lmlmusic.com.
CONTACT:
RL Productions
George Russell, +1 (415) 674-3863
OR
LML Music
Lee Lessack, +1 (323) 856-9202
###