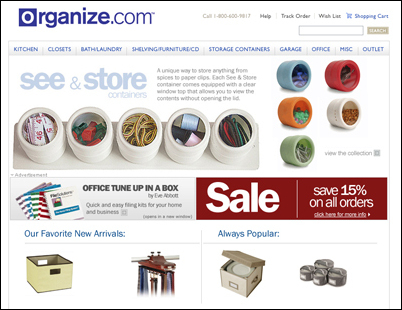 We're excited to begin
Riverside, CA (PRWEB) May 10, 2006
Retailer Organize.com, a leading online provider of home storage and organization consumer products, today announced that it has chosen New York based Alexander Interactive (AI), a premier strategy, design, and development agency, to redesign its ecommerce platform and website.
Alexander Interactive will be responsible for planning, designing, and launching the new ecommerce website scheduled to debut in the early fall. In addition to redesigning the website, Alexander Interactive has been contracted to redevelop Organize.com's internal warehouse and inventory management system.
"We're excited to begin," said Kevin Watts, Director of E-Commerce for Organize.com. "Our goal is to construct the most comprehensive online shopping destination for consumer storage and organization products. I am confident that Organize.com will benefit from AI's years of experience designing and building ecommerce websites for other leading online businesses."
The new Organize.com will offer an enhanced customer shopping experience, an expanded Internet marketing campaign and an improved customer relationship management system. The addition of a new warehouse management system will improve Organize.com's customer service and expand their capacity, while reducing the cost of fulfilling a growing number of orders.
"We are thrilled to be working with Organize.com," said Alex Schmelkin, President of Alexander Interactive. "Our end-to-end solution will unify all of Organize.com's sales, marketing, and operations activity under AI's integrated ecommerce and fulfillment platform."
The new Organize.com is scheduled for launch in October.
About Organize.com:
Organize.com is a leading online retailer of home storage and organizational products. Founded in 1998, the company operates a retail store in Riverside, California and five websites from their 42,000 square foot Internet Processing Center also in Riverside. Internet Retailer lists Organize.com in their most recent edition of Top 400 Retail Websites. Sales estimates for 2006 are expected to exceed $10,000,000.
About Alexander Interactive:
Alexander Interactive is a leader in ecommerce strategy, design, and development. Passionate about design and engineers at heart, Alexander Interactive focuses on creating rich Web experiences tailored to the needs of its clients' businesses. AI builds award-winning sites and fulfillment systems for clients including Pepperidge Farm, Campbell's Soup, FragranceNet.com, Organize.com, Steiner Sports and Action Envelope.
# # #