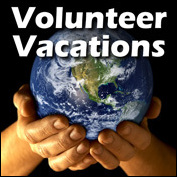 Chicago, IL (PRWEB) May 9, 2006
Volunteer Vacations are a great alternative to routine holiday travel. This summer, you could travel on a volunteer vacation to help your favorite cause, such as: animal protection, child protection, environmental protection, community service, healthcare, or reversing poverty.
Volunteer vacations are affordable and can range in duration from a weekend to a year, with many one-week and two-week options. You can volunteer close to home or travel abroad to a service-project site in Europe, Asia, or Africa.
On a trip this summer, you could...
Most volunteer vacation programs charge fees, which range in price depending on the amount of training and accommodation provided. Volunteer vacation program fees may also defray the costs of extensive pre-trip materials and supplies donated to the school, hospital or community being served. For U. S. residents, part or all of these fees may be tax-deductible.
Through a volunteer vacation, you can gain enriching experiences, memories, and friendships that last a lifetime while making a difference in someone's life. For more examples of volunteer vacations, please visit Charity Guide's Volunteer Vacation Directory.
Charity Guide is a nonprofit organization dedicated to promoting volunteer vacations and flexible volunteerism. Charity Guide inspires and facilitates acts of kindness that are entirely flexible and immediately actionable.
# # #