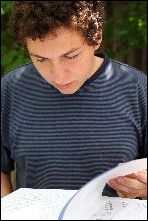 We know a lot about the different values that exist in people and how those values align with the rewards found in different jobs
Dallas, TX (PRWEB) May 11, 2006
Success Discoveries, a division of The Nielson Group based in Dallas, TX, has launched a unique and highly effective self-guided career planning program called Success Discoveries Career Planning for High School and College Students™ which is purchased and administered via the Internet. Additional options of hiring a career coach or receiving the assessments and guidebook in a monogrammed leather 3-ring binder are also available when you purchase the career planning program.
As graduation time nears, high school students often feel pressured to make career direction decisions with little preparation and with limited strategies and resources. While employers of all sizes are now using sophisticated assessment tools to help determine an applicant's talent fit to a particular job, students have not had access to similar tools to determine their own talents as a means of selecting a career about which they can feel passionate. Most students continue to be encouraged to select college majors and jobs based on academic achievement, college literature, a parent's desires, job curb appeal or first offer.
Passion, referred to as motivation in the corporate world, is directly related to personal values or attitudes. "We know a lot about the different values that exist in people and how those values align with the rewards found in different jobs," states Carl Nielson, Chief Discovery Officer and founder of Success Discoveries. "By identifying your values, we can map general career categories such as research and development, ministry, healthcare, historian, law, engineering, art or architecture, to name a few. It is a good start, but we found that by also looking at your behavioral style, we can connect the dots more accurately."
Many college web sites such as Rutgers and some state government web sites offer some type of career assessment; however, most students find them to be of limited use. With the Success Discoveries process, we map the person's personal values and behavioral style. We then match their behavioral style to jobs requiring similar behavioral traits and cross-check potential career options identified from their personal values. The student is then able to identify unique job/career patterns that allow them to accurately narrow their research and more easily make intelligent career choices that create passion and energy – and lead to greater success and satisfaction.
"My high school senior has many interests which was the issue for us," said Victoria Yeary, mother of a Success Discoveries Career Planning student in Plano, TX. "Taking the assessments and then working through the guidebook was easy and gave my daughter the clarity and confidence to identify three career directions she was strongly interested in researching and that matched her talents. The guidebook coached my daughter on how to research the choices. But the amazing part was how accurate and detailed the assessment results were and how cross-analyzing job/career options based on her assessment results pinpointed areas of interest she had already mentioned in passing. Her level of confidence and focus increased exponentially. You could hear the passion in her voice after that. What had seemed like a roadblock we couldn't get past was completely eliminated."
Missteps made by students in college and career planning have significant negative personal and socio-economic consequences. For more details, you are invited to read the Success Discoveries white paper: Passion: A Priceless Graduation Gift for High School and College Students.
For additional information on the news that is the subject of this release, contact Carl Nielson or go to Success Discoveries Career Planning for High School and College Students.
About The Nielson Group and Success Discoveries: The Nielson Group, established in 1998, provides tools and strategies that help organizations increase performance and profits, including the use of assessments for job-talent matching. Success Discoveries, a division of The Nielson Group, was founded in 2004 as a professional coaching consortium dedicated to helping individuals find success at any stage in life and career.
Contact:
Carl Nielson
Chief Discovery Officer
Success Discoveries
972-346-2892
http://www.nielsongroup.com
http://wwwsuccessdiscoveries.com
###