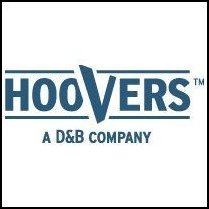 A couple of household names moved up a baker's dozen of spots in this first edition of The Hoover's 100
Austin, TX (PRWEB) May 17, 2006 –-
Hoover's, Inc., a D&B company that gives its customers a competitive edge with insightful business information about industries, companies and key decision makers, today announced the launch of "The Hoover's 100", a monthly list of the most searched-for companies on Hoover's Web site (http://www.hoovers.com).
Derived by tracking the search requests of Hoover's subscribers, The Hoover's 100 company list provides insight about those companies being most closely watched by corporate executives, as well as sales, marketing, and business development professionals, who represent a large portion of Hoover's customers seeking business intelligence. Previously tracked internally, The Hoover's 100 will be publicly released monthly.
"A couple of household names moved up a baker's dozen of spots in this first edition of The Hoover's 100," said Tim Walker, Hoover's business expert. "The April rankings of Google and The Home Depot each rose 13 spots from their March ranking. But even they were trumped by both Apple and an investment firm most people had never even heard of before this year."
The news behind the biggest movers ranged from impressive earnings, to strong leadership, to surprising acquisitions.
Apple Computer, Inc. (From #18 to #2)
The beat goes on for Apple Computer, which rose 16 spots to take the #2 ranking on The Hoover's 100. CEO Steve Jobs and his crew seem to have Apple humming right along, with continued strong sales of iPods, as well as Macintosh computers. In April the company announced strong results for the first quarter, in which the iPod-plus-iTunes music offering made up half of the company's revenue. Apple also introduced new products, including a 17-inch MacBook Pro laptop that is another installment in the company's popular series of Intel-powered computers.
Google Inc. (From #22 to #9)
Does Google need a reason to move into the ninth spot on The Hoover's 100? Probably not. But, the ubiquitous search company did announce a follow-on stock offering the last day of March and then announced strong first-quarter results three weeks later. Google continues to be one of the most talked-about companies in the world, often stealing the limelight from much larger companies. To get an idea of how far Google punches above its weight, compare its profile with that of Dover Corporation or Regions Financial – profitable companies listed on the NYSE that each finished 2005 within about 1% of Google's revenue figure.
The Home Depot, Inc. (From #26 to #13)
Five years after he left General Electric to take the reins at the second-largest U.S. retailer, CEO Bob Nardelli seems to have completed Home Depot's corporate remodeling. The executive and his company have been the subject of countless news stories in the wake of record annual revenue and net income reported for the fiscal year that ended in January 2006. The news mill cranked up again when Home Depot completed its acquisition of Hughes Supply in early April. Hughes, which had revenue of more than $4.4 billion in 2005, is a big distributor of construction and industrial goods; it rounds out the portfolio of The Home Depot Supply, which caters to professionals rather than do-it-yourselfers.
Cerberus Capital Management, L.P. (From #186 to #59)
The biggest mover on The Hoover's 100 was Cerberus Capital Management, which rose 127 spots to finish at 59th for April. The secretive Wall Street company made news a few months back when it joined SUPERVALU's buyout of Albertson's. Cerberus came into the limelight again in April when it led an investment group that plans to buy 51% of General Motors' GMAC financing unit, with a price tag around $14 billion.
The Hoover's 100 Company List for April 2006:
Rank, Company, Last Month
1, Wal-Mart Stores, Inc., 2
2, Apple Computer, Inc., 18
3, The Procter & Gamble Company, 5
4, Dell Inc., 17
5, Microsoft Corporation, 7
6, General Electric Company, 3
7, Starbucks Corporation, 6
8, Johnson & Johnson, 4
9, Google Inc., 22
10, International Business Machines Corporation, 9
11, Bank of America Corporation, 13
12, Verizon Communications Inc., 14
13, The Home Depot, Inc., 26
14, Hewlett-Packard Company, 12
15, NIKE, Inc., 20
16, Pfizer Inc, 10
17, Citigroup Inc., 11
18, SBC Communications Inc., 15
19, General Motors Corporation, 19
20, The Coca-Cola Company, 27
21, Exxon Mobil Corporation, 40
22, The Walt Disney Company, 21
23, JPMorgan Chase & Co., 16
24, 3M Company, 23
25, Cisco Systems, Inc., 30
26, PepsiCo, Inc., 35
27, Ford, 36
28, Gap Inc., 25
29, Cendant Corporation, 24
30, Kraft Foods Inc., 29
31, Motorola, Inc., 31
32, Sprint Nextel Corporation, 28
33, American International Group, Inc., 33
34, McDonald's Corporation, 39
35, Best Buy Co., Inc., 44
36, Merck & Co., Inc., 45
37, Abbott Laboratories, 37
38, Time Warner Inc., 43
39, Yahoo! Inc., 68
40, Intel Corporation, 55
41, American Express Company, 42
42, Oracle Corporation, 46
43, United Parcel Service, Inc., 51
44, Anheuser-Busch Companies, Inc., 66
45, Electronic Data Systems Corporation, 34
46, Cingular Wireless LLC, 50
47, The Boeing Company, 38
48, Wells Fargo & Company, 47
49, FedEx Corporation, 80
50, Amazon.com, Inc., 115
To see the entire list of The Hoover's 100, click here.
Hoover's combines insightful editorial expertise, proprietary data collection technologies and a smart, engaging presentation to give its customers easy access to the most enlightening business information available. For more on how Hoover's can give you a competitive edge with insightful information about industries, companies, and the people who lead them, click here to learn about Hoover's subscriptions.
About Hoover's, Inc. (http://www.hoovers.com)
Hoover's, a D&B company, gives its customers a competitive edge with insightful information about industries, companies, and key decision makers. Hoover's provides this updated business information for sales, marketing, business development, and other professionals who need intelligence on U.S. and global companies, industries, and the people who lead them. This information, along with powerful tools to search, sort, download and integrate the content, is available through Hoover's, the company's premier online service. Hoover's business intelligence is also available through corporate intranets and distribution agreements with licensees, as well as via Hoover's books. The company is headquartered in Austin, Texas.
# # #