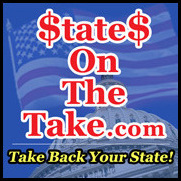 Not all undesirable disclosures coming out of D.C. these days originate from the government.
Dallas, TX (PRWEB) May 10, 2006
The recent torrent of undesired "disclosures" and "leaks" pouring out of the Nation's Capital, threatens to burst the "Truth–Levees" the Bush administration and its Stealth Cartel allies have fought so hard to maintain. However, founder of StatesOnTheTake.com S. George Alfonso, notes, "Not all undesirable disclosures coming out of D.C. these days originate from the government."
These internal minutes clearly set forth – in the MSA Stealth Cartel's own words – their goals, desires and ongoing efforts to pervert our free market system through the MSA "scheme", into the desired de-facto monopoly, in order to insure maximum profits for both Big Tobacco and their Comrade in Collusion – the participating MSA State Governments.
StatesOnTheTake.com has obtained and published the recently disclosed minutes from the private MSA Stealth Cartel January 2004 meeting – in its entirety. For the second time since its launch, the site has obtained and posted internal documents that the MSA Stealth Cartel does not want the public to view.
As with the previous MSA Stealth Cartel internal memo from the National Association of Attorneys General ("NAAG") – still posted on the site, the minutes from this MSA Stealth Cartel meeting have garnered national mainstream media coverage in Forbes.
According to Mr. Alfonso, StatesOnTheTake.com would not be able to obtain such non-published documents or issue press releases announcing the posting such clandestine documents from the MSA Stealth Cartel, if these Comrades in Collusion did not routinely go through substantial lengths to camouflage the truth.
"The obvious reason such veracity has not been previously displayed by the MSA Stealth Cartel since its inception, is evident" says Alfonso – "Had such truthful information been readily disseminated to the Citizen Consumers and independent business owners – the voting constituency, opposition may well have been sufficient to have forced their elected officials to put an end to the MSA Stealth Cartel, halting the ongoing attempt to create a de-facto monopoly forever.
Citizen Consumers, independent business owners and bloggers are realizing the exponential increase of the MSA model Stealth Cartel, which as with the MSA, often operate on a state-based level, functioning and expanding under the mainstream media's national news radar.
Alfonso adds that StatesOnTheTake.com welcomes continued input and information from Citizen Consumers, independent businesses owners and other websites and bloggers, to further expose the true agendas of the companies and state politicians that are conspiring at an alarming rate in areas across our economy.
The Stealth Cartels end game? Tilt the economic playing field against the Citizen Consumer and the independent business owner and establish de-facto monopolies for the mutual benefit of the Big Business and their Stealth Cartel partners in state government.
To view the recently released minutes of the Big Tobacco and State Government secret meeting and their continuing attack of the free market system, go to http://www.StatesOnTheTake.com
###