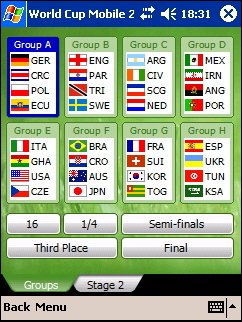 Bratislava, Slovakia (PRWEB) May 12, 2006
Resco, a leading provider of end-user mobile applications, releases mobile guide to the 2006 FIFA World Cup (TM) for the handheld and SmartPhone owners.
"World Cup Mobile", created as a joint venture of Resco and Envi.con, provides online coverage of the Football World Cup in Germany as well as interesting materials about the World Cup history.
"World Cup Mobile" offers match results, standings, World Cup statistics and news 24 hours a day. Football fans can view team rosters, stadium portraits and rich historical material supplemented with illustrative images. A detailed game description will follow each match.
"World Cup Mobile" works with Windows Mobile, Palm or Symbian (Series 60) devices.
"Most of us are football fans and count days remaining to the World Cup 2006 in Germany eagerly. Hence when Envi.con KG came with the idea that they provide the World Cup data and we should get running the application, we were very pleased with the idea and got to work immediately," said Jan Slodicka, Resco Product Manager.
"World Cup Mobile" contains detailed reports about all 32 participating teams, portraits of famous World Cup players from the past, descriptions and photos of each game location and World Cup statistics since 1930. News update is released several times a day.
Basic German data was licensed from an official German agency (SID, Neuss). News and match reports are immediately translated into English, French and Spanish.
"World Cup Mobile" works best with handhelds having Internet connection, nevertheless the results can be entered also manually.
Pricing and Availability
The latest version costs EUR 14.95 and can be found at: http://www.resco.net/wmmobil.asp.
Application is provided in four localizations: English, German, French and Spanish. Purchase and full version download is available only on Envi.con web sites pocketland.de,pdassi.de,smartsam.de.
About "Envi.con KG":
The Berlin-based software company envi.con KG has been developing software for mobile devices since 1998. The company provides software for Palm OS, Pocket PC/Windows Mobile, and Symbian OS. Well-known products include PDA Stadtplandienst ("City Map Service"), Duden and Brockhaus. These and many other software products are distributed at the internet portals http://www.pdassi.com, http://www.pocketland.net, http://www.smartsym.com.
About Resco s.r.o.
Founded in 1999, Resco, s.r.o. (http://www.resco.net) is the leading developer of a wide range of mobile software products for multiple handheld software platforms. Besides the best selling end-user mobile applications, Resco also offers developer tools as well as enterprise mobile solutions. Today the company has more than 100,000 satisfied customers worldwide.
The names of actual companies and products mentioned herein may be the trademarks of their respective owners.
###