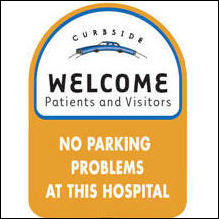 These fit perfectly with Curbside's mission to provide excellence in service to patients and visitors.
Beverly, MA (PRWEB) May 11, 2006
United Regional Health Care System (URHCS), the leading health care provider in Wichita Falls, Texas, has implemented Curbside's valet and welcoming services for patients and guests. Curbsides services are helping the approximately 40,000 patients and visitors that enter at the 11th Street Campus entrance each year, have access to courtesy valet, wheelchair and mobility assistance, and a welcoming front door environment that extends service and care beyond the walls of the hospital to the very moment they arrive and leave.
"The valet parking service responds to needs expressed by our patients and visitors regarding our 'distanced parking.' The nature of patient care has changed in recent years in that we are providing more procedures on an outpatient basis. Also, we have an increasingly number of older patients who often find it difficult to walk from the parking lots. Curbside's service helps alleviate those problems for everyone coming to our hospital," stated Phyllis Cowling, President and Chief Executive Officer of United Regional Health Care System.
Mike Becker, Director of Guest Services and Safety is already pleased. "In a very short time we've already received positive feedback on the new service. I'm confident our partnership with Curbside will increase patient and visitor satisfaction."
"URHCS' employees adhere to five pillars of excellence: people, service, quality, finance, and growth,'" said John Udelson, President and CEO of Curbside, Inc. "These fit perfectly with Curbside's mission to provide excellence in service to patients and visitors."
Valet service hours at URHCS are 5:30am – 5:00pm, Monday through Friday at the 11th Street Campus. Service has been running since May 1st and is accessible at the circle entrance just outside the gift shop. The service is free to patients, visitors, and guests.
About United Regional Health Care System
Offering state-of-the-art technologies and facilities, a broad spectrum of health care services normally associated with larger metropolitan cities and a level of quality care unmatched in the region, United Regional Health Care is a comprehensive health care system designed to deliver excellence in health care.
United Regional's passion is to provide excellence in health care for the communities we serve. Focused on total patient care and superior customer service, the employees and medical staff of United Regional are making a positive difference in the lives of others. Visit URHCS at http://www.urhcs.org.
About Curbside
Founded in 1997, Curbside provides cost-effective and comprehensive valet, concierge, shuttle and garage management solutions to some of the most vexing and underrated challenges that the modern health care institution faces— making each person entering and leaving the hospital feel valued and supported all while making parking and transportation the least of their problems. For more information on Curbside and its solutions, visit http://www.curbsidevalet.com or call 866-Curbside.
Curbside Contact:
Mark Currier
Director of Marketing
(978) 524-0900
United Regional Health Care System Contact:
Kim Maddin
Director of Community Relations
(940) 764-3044
# # #