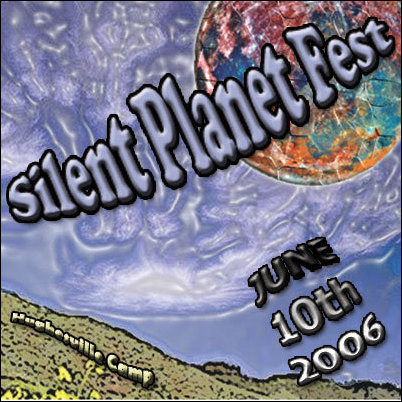 His show was extremely entertaining, the first time I was able to enjoy a hiphop concert and totally get into it
Hughesville, PA (PRWEB) May 13, 2006
The first annual Silent Planet Fest, a prog rock and metal festival, happens Saturday June 10th, 2006 at Hughesville Camp; 199 Race Street; Hughesville, PA 17737 USA. The event starts at 1 pm. Confirmed acts include Jacob's Dream, Rivera/Bomma, Orphan Project, Ajalon, Blissed and Trinity FSG. Also joining us will be Axeom, Phoenix and a special Madmen and Dreamers "plug in jam". This will be a one day, all day event. Tickets are $20 in advance, $25 at the gate. They are on sale at http://www.iTickets.com or by going to our web site. There are only 500 tickets and they are going fast, get yours now! RV, cabin and tent camping is available, but must be reserved separately by calling the campground at (570) 584-2882. For details, music bits and schedule go to http://www.silentplanetfest.com or give us a call at (570) 417-3818.
------
Jacob's Dream - With 3 highly acclaimed CDs on Metal Blade Records, this band has taken the melodic metal world by storm. Their brand of signature metal is a combined effort of complicated guitar work, dark melodies, intense technical drumming and passionate energy. Their lyrics are filled with poetic imagery. This band surely matures with age as their music becomes more progressive each new release. http://www.jacobsdream.us
Rivera/Bomma - These guys have exploded on to the technical metal world with an extremely eclectic and passionate melodic metal debut release "Invisible Force", followed by their current superior, "I Am God" on the legendary Mausoleum Records. Their music combines elements of epic, power, prog and guitar hero styles. Strong powerful vocals mixed with technical guitar makes this band a must see for fans of Dio, Santana, Rainbow, Deep Purple, Narnia & Rob Rock. The live show is always a theatrical event. The legendary Steve Faust will be playing keyboards with them for this show. http://www.riverabomma.com
Orphan Project - is a melodic prog rock band that has released a very much respected debut concept CD called "Orphan Found". The project is the story of a young man who grew up as an adopted child. As he becomes an adult, he begins to search for his roots, looking for answers. The answers come but not in the form that he expected. The band has often been said to contain musical elements of Kansas, Soundgarden and U2. http://www.orphanfound.com
Ajalon- Their music has touched hearts in over 10 different countries around the world. With the initial launch from Rick Wakeman (YES) and Hope Records, Ajalon has released their second CD, timely titled On the Threshold of Eternity. The songs once again feature the grand scale composition merged with the delicate heart cry of the acoustic folk ballad. Front man and principle songwriter of Ajalon, Randy George, has worked with Neal Morse (Spock's Beard) as his live bass player and helped to co-write a few of his songs from his solo recordings. http://www.ajalon.net
Blissed - Their first CD was a mix of alternative metal with a very modern sound, giving lead to intense rhythmic breakdowns. This band's vocals are always strong, filled with harmonies, busting out occasionally with passionate screams. To say their live set is powerful is to be an understatement. We'd say they are one of the most passionate bands currently in music. Their new CD "Corrosive" will be on the streets very soon. http://www.blissed.biz
Trinity FSG - is a progressive power trio which hits the nail on the head with their sweet melodies and passionate lyrics. Having the ability to write a song with a great hook, their compositions are always memorable, but technical enough to grab those of you who seek fine skilled musicians. http://www.myspace.com/trinityfsg
Madmen and Dreamers - This group understands the meaning of fine art as they bring back the epic tradition of the rock opera. They often say they are "reviving the art of storytelling". Typically they will perform with actors/singers and full band. Their latest production is called 'Children of Children', which is a realistic and common story of a one family's separation, reconciliation and redemption. Unfortunately we just don't have enough time to present the full opera so they will perform pieces of it and maybe do some free style jamming. The group has been compared to Pink Floyd's "The Wall", "Jesus Christ Superstar", "Tommy" & "Godspell". Maybe next year we will treat you to this smorgasbord of fine talent. http://www.madmen-and-dreamers.com
Phoenix - is a hybrid solo artist taking elements of raprock, techno and hardcore to come up with a very unique sound. As this artist continues to mature his music gets more technical. He is highly entertaining with his emotional music and ability to get a crowd moving. Even the legendary John Berry of Jacob's Dream said, "His show was extremely entertaining, the first time I was able to enjoy a hiphop concert and totally get into it". http://www.phoenixhiphop.com
Axeom- A local group of high school students who can absolutely shred on their instruments. The group is comprised of music prodigies, playing a bred of hard rock that combines elements of guitar hero with an R&B, Jazz flavored groove. Think what would happen if G3 meet Living Colour. This is an up-in-coming group that needs to be heard.
Mark Blair Glunt
11 Catherine St.
Plains, PA 18705
(570) 417-3818
mark @ silentplanetpromotions.com
AIM: silentplanetpro
Skype: SilentPlanet
http://www.silentplanetpromotions.com
http://www.myspace.com/silentplanetpromotions/
Forum: http://p066.ezboard.com/bbadboll
http://www.silentplanetradio.com
###